SPF lunch options expand with opening of new station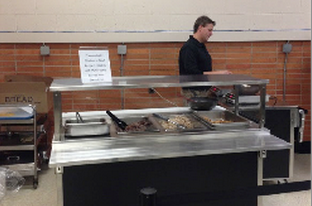 by Alyssa Gilman   
   With its grand opening on Oct. 22, the main cafeteria's new lunch station, which is yet to be named, has had much success. The station, which sells many different dishes ranging from stir fry to quesadillas, operates at the rear of the cafeteria. According to Food Service Director Steve Esposito, one of the motives for the new station was to eliminate the crowding from the two main lunch lines. An additional serving location would hopefully spread out the lunch lines to different ends of the cafeteria and expedite service. The idea for the station was presented to the Board of Education and Dr. Heisey, and after being approved instantly, equipment for the station was ordered.
   Along with the new station came new lunch options. "Rather than putting the same items at a new station, we decided to do a whole new menu that included mostly demonstration cooking and made-to-order items," said Esposito. Now, students are able to watch as their food is made in front of them, and can choose what they would like from the available ingredients.
   Recent menu options include "Top Your Own Quesadilla," "Pasta Toss" and "Stuffed Baked Potato Bar." Each menu offers many different variations from which the student can choose. For example, chicken, tofu, broccoli, peppers, onions, carrots, celery, mushrooms and brown rice are available for mixing with the "Stir Fry Station" menu.
One of the most popular items among student customers has been the cheesesteak. "It may be the way we make them," said Esposito. "We put all of [the student's] chosen ingredients into the wok with our secret sauce, lay the cheese on the sub roll and pour the wok right onto the bread. The cheese melts instantly and the sandwich looks and tastes great." (A chicken cheesesteak is also available.) Such careful preparation is evident in each of the station's creations.
    With menus like "Build Your Own Salad Bar" and "Fruit Smoothie Bar," the station also features healthy options. As part of the National School Lunch Program, the station's menu items must meet strict regulations and guidelines, just as those at the preexisting lunch stations do. Most of the dishes cost $3.50. They may include higher quality chicken, Boar's Head deli meat and fries, and are sold in portions larger than those at other lunch stations.
Drinks and snacks similar to those at the front of the cafeteria are also sold next to the food preparation station.
Esposito encourages new ideas from students. "We are always open for suggestions to expand our menu and give the students what they enjoy eating," said Esposito. Students can contact Esposito with menu ideas or suggestions for a name for the station by emailing [email protected] or tweeting to @spfhscafeteria.