Therapy animals are more than just pets. They are friends that anybody can rely on. There are so many benefits that come with an emotional support animal. A sense of comfort and happiness are simple feelings that some people lack during their daily lives, and these animals help resolve that problem. 
Mental health hit a rough patch during the COVID-19 pandemic. Symptoms of anxiety and depression overwhelmed many individuals. For most of us, interactions were virtually done instead of face-to-face. 
Students were especially impacted by the crisis. A CDC survey found that "more than a third (37%) of high school students in the United States experienced poor mental health at least most of the time during the Covid-19 pandemic."
In 2019, superintendent Dr. Joan Mast went to a roundtable meeting where she met a superintendent from Pennsylvania who brought his trained therapy dog to his district. Dr. Mast had a first-hand experience of how the dog's presence perked the school's environment, motivating her to carry over the idea to the Scotch Plains-Fanwood district. 
"After learning about what a positive experience it was for his district, and after doing further research into how pet therapy can improve the lives of students and staff, Dr. Mast knew it was a program she wanted to present to the Board of Education for approval," Robin Broadbent, executive assistant of Dr. Mast, told the Fanscotian. 
The three-and-a-half year old male English Cream Golden Retriever was formally introduced into the district staff in 2020 to be trained. Dr. Mast and Broadbent both became certified dog handlers to provide consistent care for Spiffy. 
Spiffy, whose name is influenced by the school district, had to take several courses to be certified as a therapy dog. He took two basic obedience courses, passed a class specifically tailored to train therapy dogs and passed the advanced Creature Comforts Pet Therapy Test. 
The CCPT organization is the pet therapy program that the district is certified through. The test examined Spiffy's proficiency in skills such as: loose leash walking, greeting a stranger, handling by a stranger, responding to basic instructions, behavior with other dogs, food distraction and visits with medical equipment. 
He finished his training in May, 2022 and started making an appearance around the district more frequently. 
Spiffy interacts with students by: 
Meeting individually with students who experience a wide array of emotions such as school aversion, grief, anxiety, life changes, etc. with their counselors or a building Student Assistant Specialist
Students reading one-on-one for 15 minutes in a designated part of their school/media center
Coming into classrooms for a presentation about therapy dogs and petting time with the class
Being present in buildings for testing and finals
Being a reward for students who have reached an intended goal
The four-legged buddy attended the Class of '23 graduation, where he received a lot of cheers and also goodbyes from his graduating classmates. 
"Spiffy brings smiles and joy to the faces of almost everyone he interacts with, [whether it be] students or staff. He loves everyone equally," Broadbent said.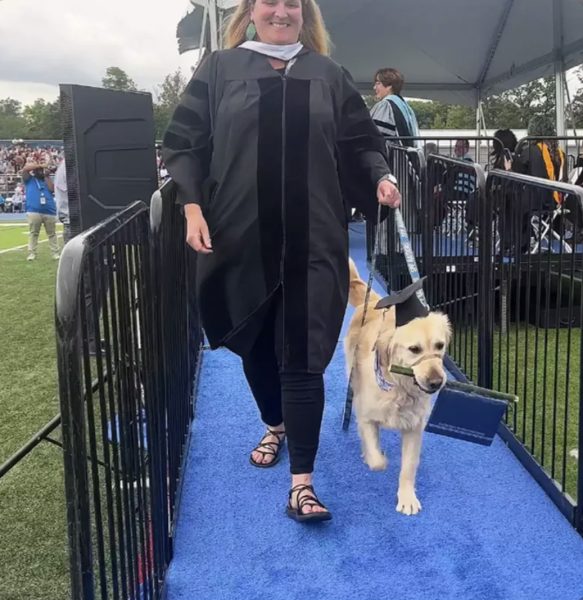 Spiffy's journey at SPF has a long way to go. Students can schedule appointments with him by emailing Dr. Mast or Broadbent, likely find him attending club meetings, or see him wandering the halls.