Don't Call it a Comeback: The United States Men's National Team qualifies for Fifa World Cup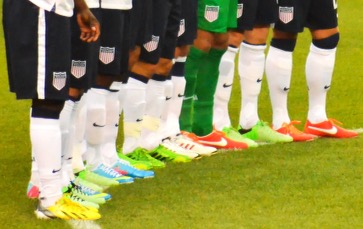 The final whistle blows. 90 minutes are up. Members of one team run to each other and rejoice, while the other side holds their heads in their hands, their hearts heavy and hopes gone. 
This was the United States Men's National Soccer team five years ago after a sour defeat to Trinidad and Tobago. It was the first time they failed to qualify for the World Cup since 1986. The loss was a wake-up call to the US Soccer Federation and prompted changes within its youth system. 
After an eight-year drought, the USMNT has turned tragedy into motivation and will once again appear on soccer's greatest stage at the 2022 World Cup in Qatar. 
Supporters are overjoyed but predominantly relieved to see the red, white and blue in a major tournament again.
"I think my primary emotion is relief," Scotch Plains-Fanwood High School Senior Mourik Bhattacharjee said. "The world cup qualifying process is quite a stressful one, so securing a spot in the World Cup allowed me to breathe a big sigh of relief. It has been way too long since I've last seen my nation compete at the top level,"
With that excitement also comes anticipation for what's to come. In the first round of the tournament, the United States will face a strong England side, who are fan favorites after last summer's European championship run. They will also meet Iran and either Scotland, Wales, or Ukraine. Though the USMNT are a younger side, there are plenty of players that will make a mark such as RB Salzburg's Brendan Aaronson, Borussia Dortmund's Gio Reyna and already-legendary Christian Pulisic, who we will most likely see captain the squad.
For the USMNT, qualifying for the World Cup is not a redemption tour, but rather a showcase of their worthiness to once again compete amongst the world's greatest. Though their success is ultimately unclear, US soccer fans are just happy to see the red, white and blue take the world by storm once again.
"[The US going to the World Cup] means that this batch of players are ready to show the world what their incredible talent and hard work can achieve," Bhattacharjee said. "For soccer fans like myself, it means everything to have your country earn this privilege of being in the world cup, watching them play on a stage like that is an unmatched feeling. Missing out on the last tournament makes you really appreciate the next one a lot more."