Relay for Life is Kicking it Wild Style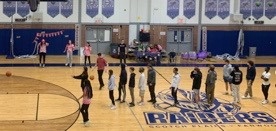 Students play knockout, competing to win a gift card. There were many games and challenges at the Relay for Life kickoff last week. 
When I walked into the new gym, a plethora of Western-themed decorations lined the walls and excited students approached the bleachers. As the relay races began, music blasted and students dashed across the gym floor, eager to beat their opponents. This was definitely not the energy that I expected during period two of physical education. 
On March 24 and 25, Student Movement Against Cancer (SMAC), a club at Scotch Plains-Fanwood High school held the Relay for Life kickoff event. In the gym, students participated in various obstacle courses and activities, all to get them excited and to spread the word about Relay, which will take place on May 20. 
"I think people had a lot of fun. They learned about Relay [and] got to see some of the board members. It was nice to be able to involve the whole school," SMAC Event Chair Rebecca Strug told The Fanscotian.  
With Relay for life approaching, the main goal of the kickoff event was to give students a taste of what's to come. The SMAC board was also hoping to get more students interested and signed up, even if they are not active members of the club. 
"I believe that SMAC is a great way [for students] to start young and realize that they can make an impact in this world," SMAC Co-President Lindsay Edelman said. "Relay for Life brings the whole community together, so we can all help those in need. I feel like there's not a lot of organizations out there that can do what [the] American Cancer Society does for the world right now. During the pandemic for example, a lot of things were getting shut down, but we kept doing Relay for Life because cancer doesn't stop, so we can't either." 
A huge part of what makes Relay for Life a success is the community. As it grows closer, SMAC board members are reaching out to local businesses, asking if they are interested in sponsoring the event. Edelman mentioned how they were specifically looking for western-themed food trucks, in the spirit of the wild west.  
The most important part of Relay is fighting and giving back to those who have suffered from or currently have cancer. SMAC board members are inviting cancer survivors from the community, so they can be included in and contribute to this special night. 
"It's a really special night that we can all spend together and celebrate those who have battled cancer, [while] honoring those who [have] lost their lives to cancer," Edleman said. 
"To honor all of these people, the community walks around the track in silence. The first lap is for all of the survivors present, the second lap is for caregivers and the third lap is for everyone."
The fun Wild West night will continue with many western-themed games and the luminaria ceremony. A luminaria is a small paper lantern. They are bought in honor of a survivor, somebody who is battling cancer, or someone who has lost their life. Board members write the name of that person on the lantern and as you walk around the track, they light up the night. 
"Everyone who leads [Relay for Life] and is part of the board is really passionate about what they do. It's one of those things that's not just for the resume, it's a club that really does make a difference," Rebecca Strug said.