A United States First: Judge Kentaji Brown Jackson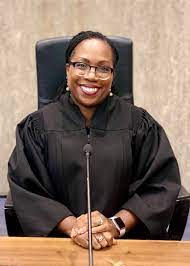 Judge Ketanji Brown Jackson makes history as being the first black woman in United States history to be a Supreme Court nominee. She was nominated by President Joe Biden on Feb. 25, 2022.
Jackson currently sits on the district of Columbia Circuit Court, is confirmed to the U.S Sentencing Commission and has experience clerking under a (now former) Supreme Court Justice Stephen Breyer. 
The confirmation hearing for Jackson began the week of March 21, 2022 and is now ongoing. 
SPFHS students are excited and hopeful for Judge Jackson's future. 
"I am so so so excited to have Judge Jackson as a nominee and hopefully she will be appointed," senior Jodi Carmant said. "Let alone the diversity she will bring to the senate but she is a new role model for young black girls to know they can and have every right to reach for the stars." 
History is currently in the making.