"Who told you you're allowed to rain on my parade?" Beanie Feldstein, Ramin Karimloo, Jane Lynch and Jared Grimes first preview of the Funny Girl Revival 
"Hello Gorgeous."
Beanie Feldstein appeared upstage at the first preview of the Funny Girl revival and the crowd went wild. Even before she uttered the famous first lines of the show, the audience could not contain their excitement as Broadway's new Fanny Brice made her entrance to the stage. Viewers of the show cheered and clapped, becoming one of the most electric and excited audiences I have ever been a part of.
Going into the show, I had high expectations for Feldstein's performance; however, I didn't expect the amazing vocal talent she possessed. Her rendition of "Don't Rain On My Parade" was absolutely show stopping and left the audience in awe as the lights came up for intermission. Feldstein told The New York Times that she wants to be her own version of Fanny Brice, not Barabra Streisand's version, and she did just that.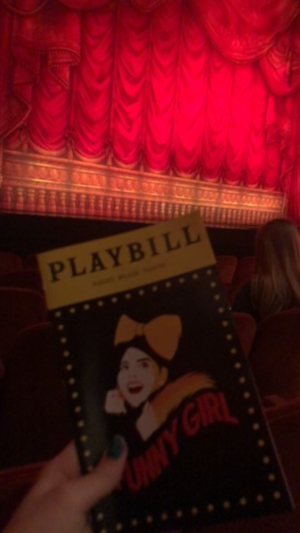 Taking on the role originated by one of the biggest Broadway legends is a difficult feat, not to mention putting your own spin on it. However, Feldstein took the role by storm, making me nearly forget that Streisand originated the role. 
Feldstein isn't the only star in the cast. Ramin Karimloo plays Brice's love interest, Nick Arnstein. His performance showcased his rich voice as he charmed his way into Brice's life. Jane Lynch who is a well known cast member of Glee, took on the role of Rosie Brice (Fanny's mother). Lynch was a clear fan-favorite as she entered to a thunderous applause. 
One of my favorite performances wasJared Grimes as Eddie Ryan. He performed one of the most entertaining tap numbers I have ever seen. Grimes absolutely shocked me as he danced across the stage. The smile did not leave my face as he continued to tap. He brought so much personality to his role, creating such a loveable and relatable character. Grimes looked genuinely happy to be up on the stage and put on a truly impressive performance.
Other than the actors fantastic performances, the costumes were outstanding. Each "big number" came with a different and incredibly impressive set of costumes. The costumes ranged from beautiful coats to silver jumpsuits to full flower headpieces.
Overall, the revival of Funny Girl is sure to drum up major publicity as they approach their Opening Night.
The curtain call moved me to tears as I watched the pure joy in the faces of the cast. I cannot recommend this show enough.