Lucky Profit: a Debut Single from Fanscotian's Very Own
"And I miss you in the evening, not having you around. I've been running all around this town, been running all around for you…"
These beautiful lyrics taken straight from local band, Lucky Profit's new debut single, "Leave the light on". 
Lucky Profit consists of four incredibly talented musicians: Singer Samantha Smith, Asher Gelfand on bass, Aidan Supranowitz on the drums and Scotch Plains-Fanwood High School's very own and valuable member of the Fanscotian, Matthew Levine.
"You just can't help what you just don't know, it's been a thousand miles but it feels like I'm finally home."
"Leave the light on" is a beautiful and highly catchy song written by Levine and has been performed by Lucky Profit live at different events. Their single was released Jan. 28 on many popular music streaming platforms.
After listening to the song for the first time, the tune was already stuck in my head. I found myself walking around the house humming the chorus. This song is absolutely perfect to rock out to on a drive with your friends or to dance to in your room. Not only are the instrumentals superb but the lyrics have such great meaning and you can really feel the pure emotion throughout the song.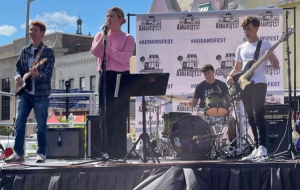 It's very obvious that Lucky Profit is a very talented group of teenagers and they clearly have a bright future when it comes to music. Levine's songwriting is truly impressive and it leaves me waiting for when their next original song comes out.