Tales of Trying: Senior Amelia Sherman on Perseverance
Senior Amelia Sherman asked her middle school Italian teacher for help harnessing her Irish accent ahead of a callback for "The Music Man." 
"In 'The Music Man,' I played the lead (Marian's) mom, which was kind of ironic because I was in fifth grade and the girl playing my daughter was like in high school," Sherman said. "That was kind of strange. I specifically remember the moment I asked my Italian teacher in middle school for help with the accent because she was Italian and Irish. I stayed after school with her every day for a little while. If I hadn't lost [the accent], I would definitely do it for you. I can barely fathom 10 year old me doing an Irish accent. I just don't know how I pulled that off."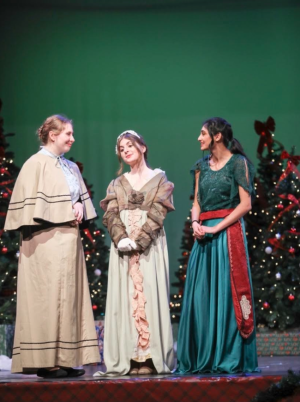 Suffice to say, learning an Irish accent wasn't the last time Sherman surprised herself in her artistic career.
When she was five years old, her grandmother took her to see her first show on Broadway. Although she fell asleep during the second half, she was bitten by the theatre bug nonetheless. She started in piano lessons that same year, and when she was seven, auditioned for her first show. 
"My family's really music-oriented: my grandma and my mom love Broadway and singing and stuff," Sherman said. "My mom plays a bunch of instruments, so they really put that on me. It's cool to share [the arts] with them." 
Sherman continued to audition for shows throughout elementary in middle school — the next surprise came in seventh grade when she booked the leading role in "Honk Jr." as a seventh-grader. 
"I remember seeing the cast list and I was completely shocked — I just did not expect it at all," Sherman recalled. "I remember taking a picture like posting it on my Finsta on Instagram. Oh, it's the weirdest picture ever; my mouth was wide open." 
Through the years, though, what surprised her most was how perseverance would shape her.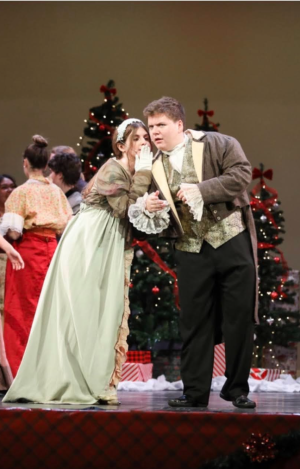 When she auditioned for the 2018 production of "Peter and the Starcatcher," she wasn't expecting anything to come of it, taking the rejection from the cast in stride. She made the best of getting rejected from the cast of "Mamma Mia!" in 2019, joining the pit orchestra of the production to play the piano. 
"I remember I was really nervous because I didn't know like anyone in [pit]," Sherman said. "I was also intimidated because there were four keyboard players, two of them were seniors. And they were good. I was [thinking to myself] 'I'm definitely not at this level,' when I started. But I surprised myself. During tech rehearsals and the shows, it was really cool to follow along with what was happening onstage. I remember this one time when one of the leads got off track with the music, and it [was my job to] help them stay on track; I was proud of myself for helping them and not letting it mess me up. [That experience] really helped me become more confident." 
Over the years, Sherman joined more choirs — leading to her being a part of all the after-school choirs (set aside Men's Choir) in her senior year — but her name was continually absent from the Repertory Theater cast list. 
"It was so embarrassing to come in and audition again and again. It was just humiliating," she said. "[When I got rejected sophomore year], I remember it being hard because it was all around me. [Junior year] it was just hard to feel like I was the only person in my grade who didn't get in." 
Sherman had ruled out auditioning for the musical in her senior year; she was worried about people asking questions about her absence from the cast in years prior, and although her positions in choir made her optimistic that senior year could be the year her name was on the list, the voice in the back of her head feared rejection nonetheless. 
"
It's really cringy but I definitely say that my Rep journey has changed me as a person because I've become more determined; I won't just give up, I keep trying, trying, trying. That [determination] will definitely impact me for the rest of my life — I literally wrote my college essay about this; it's really shaped me as a person. It's definitely changed me for the better."
— Amelia Sherman
"I kept telling myself 'I don't want to be in it,'" Sherman said. "I figured I'd be a senior, so I'm just gonna have other things to do. Before they announced the show, I said, 'I'll only do it if it's something I really want to do.' When it was announced it was 'Les Mis,' I knew I had to do it. I have an emotional attachment to the show because it was one of my favorite shows I've ever done. I didn't want to regret not auditioning."
Sherman played Young Cosette in a production of "Les Miserables" many years ago, and to this day, it remains her favorite show she's ever done. When the Rep. cast list came out in December, seeing her name on the list was vindicating. Now, hearing the music brings back good memories — she looks forward to creating new ones with the SPFHS cast of the show. 
"Not getting in until this year definitely gave me more perseverance," Sherman said. "It's really cringy but I definitely say that my Rep journey has changed me as a person because I've become more determined; I won't just give up, I keep trying, trying, trying. That [determination] will definitely impact me for the rest of my life — I literally wrote my college essay about this; it's really shaped me as a person. It's definitely changed me for the better."