Lost and Never Found
Three enormous bags of discarded water bottles and other miscellaneous items sit in the corner of the custodian's office. Countless abandoned water bottles are found in the hallways and classrooms each night. The next morning, they are added to the ever growing heap known as the Lost and Found. 
Sadly, students rarely return to claim their lost property. If you suspect that one of the many water bottles in the Lost and Found belongs to you, now is the time to take it back home. On Friday, Jan. 21, all of the stray water bottles will find a new home. Scotch Plains-Fanwood high school English teacher and SCN Advisor Robert Stevens is in charge of the donation.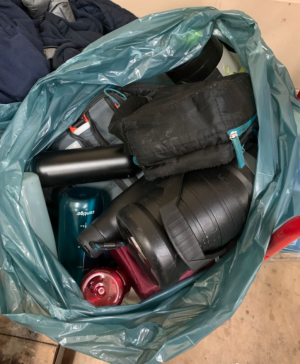 "Typically, winter coats will go to either a homeless shelter or one that does 'street action'—those who go out to look for the homeless on the streets," Stevens said. "Other clothing items often go to GoodWill, the Salvation Army or thrift stores. Things such as water bottles, lunch bags and backpacks will be donated to thrift stores."
All of the items will be washed and sterilized before they are shipped out. Dumping your water bottles in classrooms is a hassle for the custodians, but at least the commodities will be used by people who need them.