SPFHS Wrestling Team Dominates on Senior Night
With a score of 66 to 12, the SPFHS wrestling team won a phenomenal match versus New Providence on their senior night. 
Coach Jesse Martinez provides the inside scoop on the next steps for the SPFHS wrestling team. 
Q: What did you think of the match tonight? Were there any pros and cons? 

Jesse Martinez: I thought the match went really well. What helped us through the match that we used was a lot of the stuff that we were working on in the weight room. The skills were then brought to the match today. We even had one of our girl wrestlers  (Carys Browne) step up today and she performed really, really well. So you know, overall, it's just been a heck of a great performance. 
Q: What were you most impressed with tonight?
JM: I think I was most impressed by our ability to try new things. We've been working on some different moves in the weight room recently. Every one of our wrestlers had one out there and tried to hit it tonight. We also had a couple of first time wrestlers step up in their first year and for their varsity match tonight, so I was most impressed by the confidence that they displayed.
Q: What's the next step the team has to take?" 
JM: I think the next step for the team is the team having a county tournament. And we have a lot more matches this week. We have one here on Saturday with some really tough opponents as well, who are bringing a full lineup, you know, unlike our opponent tonight. I think we're going to have to be able to see what we saw tonight and every week class and perform in the county tournament for a couple of weeks and see what we can do.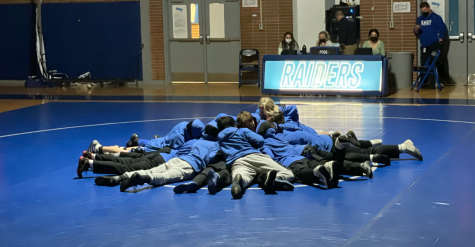 Q: When did the season start? When does it end? 
JM: We started the week of Thanksgiving. Our first match was Dec. 17. The end of the regular season is in the middle of February. 
Q: Since it's senior night, how many seniors will be leaving? How do you feel about this? 
JM: Yeah, I mean, this has been a wonderful crew and most of them have been with us for four years. Some three, very few just joined the program this year. So you know, they have been a really cohesive bunch. A lot of them have come up together. So it's gonna be an emotional season. It was a little emotional tonight, but I'm glad that we hosted it earlier in the season. Usually it's something we do more towards the end, but because of COVID-19 we wanted to celebrate it as soon as possible. You never know if a match will happen. Overall I'm glad that we got to celebrate them tonight because they're deserving of recognition.