Returning to Broadway for Lin-Manuel Miranda's "Freestyle Love Supreme"
I was almost late to my first show back on Broadway. 
I had impulsively purchased tickets to the Oct. 9 show of "Freestyle Love Supreme" after my idol – the Pulitzer-prize winner Lin-Manuel Miranda – announced on Twitter that he would be performing in the show at 5 p.m. the day prior, and spent the 30 hours in between excited beyond belief. 
My mother, who I'd be seeing the show with, wanted to drive into the city; we left at 2:45 to make sure we'd have time to present our proof of vaccinations upon arriving at the Booth Theatre and take our seats leisurely. 
New York City traffic had other ideas. 
I ended up getting out of the car somewhere around West 34th Street about a half hour before curtain and walking (more like sprinting) the remaining 11 blocks; sorry, Mom. 
After my mile run, I was panting as I shakily reached into my purse for my vaccination card and ID – a new hallmark of Broadway that I experienced for the first time – got my first Playbill in 19 months, and took my seat in Row G of the orchestra. 
That's when I heard the buzz. 
I had forgotten the feeling in my chest I get when I'm sitting next to some strangers also clutching their Playbills and flipping through its pages, the murmur of conversations between fellow audience members, the absolute thrill awaiting the announcement to turn off my cellphone. 
Two rows behind me, a man was talking about the disdain of the Yankees losing to the Red Sox last week. The guy next to me checked the score of something I didn't catch as he swapped stories with the woman next to him about how many drinks he had after seeing "Falsettos" back in 2016 to "null the depression of that show." I recognized the woman in front of me as being one of my favorite theatre journalists and struck up a conversation with her about content creation and working in the arts. When my mom arrived a few minutes later, she wound up laughing with someone behind her who had noticed her Billy Joel sweatshirt. 
Connection. What we've all been missing for the past 19 months was blossoming in those 15 minutes before curtain. 
"Freestyle Love Supreme" is different each night; all its contents – set aside the opening and closing numbers – are improvised and even the cast varies at each performance. Lin-Manuel Miranda (creator of "In the Heights," and most notably "Hamilton") and many of his Broadway-legend-pals could show up on a whim, but by buying a ticket, you're buying a lottery shot to see them perform with the stellar cast that graces the stage each night.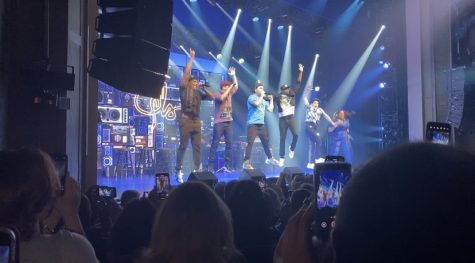 I can't speak to the contents of the show, per say, given that had I stayed for the second show of the evening the whole of it would have been different, but I can tell you that I laughed harder than I've ever laughed in a Broadway theater, cried twice (I can neither confirm nor deny whether I cried during Miranda's grand entrance), and felt more moved than I can describe. "Freestyle Love Supreme" is certainly a unique theatrical experience, and it's one that I believe holds profound cultural value. 
There is something quite remarkable about the ever-changing nature of this piece of theatre. The impermanence of it – the way that nothing is exactly the same from day to day – feels like a hallmark of the theatrical experience, but the glaring way that these changes present themselves in "Freestyle Love Supreme" is nothing short of beautiful. It bonds its audience members (shoutout to the guy a row behind me who offered his story of how he fell off the roof of his high school in an attempt to retrieve a frisbee) and encourages a swap of stories in a way no other show does. 
This show took everything I love about theatre and put it center stage. 
I continually marveled at the art of freestyle throughout the show; it blew my mind how the cast thought up such brilliant rhymes and were able to make powerful comments between the lines. Miranda, Chris Jackson, Wayne Brady, Aneesa Folds, Chris Sullivan and Anthony Veneziale were astounding on that stage, and to say I was impressed by their prowess is the understatement of the century. 
On a personal level, I'll never forget seeing Jackson (another one of my long-time idols) tear up as he sang about connection – the connection he has to theatre, the stage, the audience. I'll never forget the vibrancy of Lin-Manuel Miranda's stage presence; somehow he surpassed my expectations live.  
I'll never forget what an awakening it was to experience my first show back at a Broadway theater after a 19-month hiatus. 
If you're interested in seeing "Freestyle Love Supreme," you can find tickets and information at https://freestylelovesupreme.com/. Maybe give @Lin_Manuel a follow on Twitter, just in case. Above all, I hope you consider supporting the arts – whether on the Great White Way or at a local community theater – and experience the unique feeling it elicits.