"Pain is inevitable, but suffering is optional": remembering SPFHS Graduate Charlie Newman
"Charlie spoke to the lemons and made lemon chiffon pie, forget lemonade." -Lisa Green, Class of 1975
Many folks remember Charlie Newman for having attended the White House signing ceremony of the Americans with Disabilities Act at the invitation of President George H.W. Bush. Or perhaps they know Charlie for being so instrumental in having the first-ever accessible home built by Habitat for Humanity and the first accessible apartment complexes. Maybe their memories of Charlie stretch back to high school in the early 1970s and the day he was injured in a football game. 
Mauro Fantini – Newman's best friend – remembers Newman for the days before he became a legend and Fantini convinced him to sing "Three Dog Night's" version of "Joy to the World" at their 8th-grade Christmas play at St. Bartholomew Academy.  
"There were some risque lyrics in there for a Catholic grammar school in the early 70s," Fantini told The Fanscotian. "This was probably the beginning of me giving him questionable advice for the remainder of our lives. Charlie had said, you know, 'what do you think should I tell her [our nun teacher]? Maybe she has a misunderstanding? She thinks [I'm going to sing the Christmas carol, not Three Dog Night's]. [I told him] 'I think it's probably better to ask for forgiveness than permission."
To this day, Fantini can see his religious teachers' eyebrows "knocked off their heads" as Newman got up on stage and belted out the lyrics: "Jeremiah was a bullfrog, was a good friend of mine. I never understood a single word he said, but I helped him drink his wine." Newman received a standing ovation from his Catholic school peers. 
That was far from the last time Newman saw the SPF community rally behind him. 
Newman wasn't supposed to play in the football game against Union on Oct. 20, 1973, as his classmate and close friend Lisa Green told The Fanscotian, "The guy ahead of him was sick. So he played and on the opening kickoff against Union High School, he went into the tackle and he didn't get up off the field."
Time seemed to stop that day.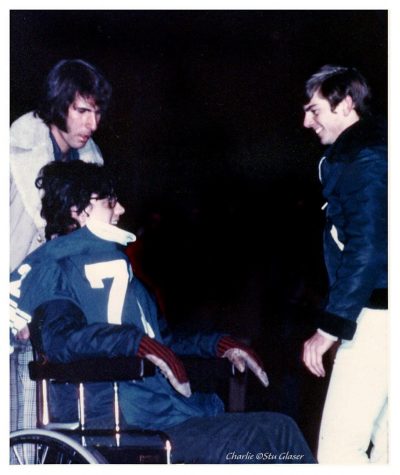 Newman suffered a broken neck at the game and was paralyzed from that day on, rendering him quadriplegic. It took a while for Newman's friends to realize the full caliber of the injury, but when they did, they stepped up to the plate, doing whatever they could to help him. They recall the collection cans they'd set up along the sides of Perry Tyson field, the giant cards classmates would sign to be delivered to the hospital, the dance-a-thon and bike-a-thon they'd organized to raise money for Newman's care. 
Eventually, the high schoolers were doing so much work that a 501(c)(3) was organized in Newman's name. 
"I remember seeing people years–if not decades–after, and they knew Charlie and I were close, so one of the first things they would say–after exchanging niceties– was 'how is Charlie doing? Please tell him I said hi,'" Fantini said. "[Helping Charlie] was always a piece of their childhood that stuck with them and had an impact on their formative years…. There was just an outpouring [amount] of love and volunteerism and just general caring and it really created a lifelong bond. For many of us, [supporting Charlie was] something that was very strong amongst our class during our school years, leading up to graduation and beyond."
Despite his disability, Newman's friends remember him for being the most uplifting, positive and joyful person they have ever known. Newman enjoyed spending time with his loved ones–particularly if it involved watching a good movie, seeing a live concert or, especially, going to a football game. 
"Early on, we would either go to local bars to have a few drinks and maybe have something to eat," Fantini said. "Many times we would go to people's houses and just have parties. I've probably consumed more beer in front of Charlie than any other person alive but I'd like to think of that not so much as consuming alcohol but actually celebrating lives."
Newman was the Director of the Office of the Disabled in Union County for 27 years, worked on boards of many organizations advocating for the accessibility, employment and housing needs of people with disabilities, and was particularly instrumental in working towards greater access to accessible housing for the disabled.
To his "pals," though, Newman was the life of the party and the glue that kept everyone together. 
"
I've probably consumed more beer in front of Charlie than any other person alive but I'd like to think of that not so much as consuming alcohol but actually celebrating lives.
— Mauro Fantini
"He was just one of the warmest, kindest, most loving, gentle men," Green said. "When I read his obituary, I felt like I didn't know him, like, he accomplished so much in life, but he was so humble about it."
Newman passed away on May 9, 2020; at the height of the COVID-19 pandemic. His friends and family were unable to celebrate Newman's life with a formal funeral. 
"The night he passed, I was walking my Golden Retriever down the street," Fantini said. "It was a beautiful, clear night and I was looking at the stars and I just felt this deep sense of loneliness and grief, knowing that, I mean, Charlie and I used to talk like every other day."
"
Charlie spoke to the lemons and made lemon chiffon pie, forget lemonade. He figured out a way to take a tragedy and turn it into a blessing for so many people in so many different ways. I mean, he made everyone around him be better because they just wanted to.
— Lisa Green
On Oct. 8, 2021, Newman will be honored at the Scotch Plains-Fanwood High School football game against Linden during halftime. His number will be retired, and many of his friends will be in attendance. The following day, there will be a mass in Newman's honor, the sort of memorial that the pandemic prevented last year.
This year, Newman's classmates–in partnership with the Scotch Plains-Fanwood Scholarship Foundation–will award a senior who has shown resilience in the face of adversity with the Charlie Newman Scholarship. Green and Fantini hope that the Scholarship can connect the generations at SPFHS in Newman's memory. 
"I think that Charlie's legacy and the point of our scholarship in his memory is for your generation as young people, to know that the most devastating thing can happen and it doesn't have to be the end of the quality of your life; that resilience is one of the most important qualities you can nurture in you," Green said. "Charlie spoke to the lemons and made lemon chiffon pie, forget lemonade. He figured out a way to take a tragedy and turn it into a blessing for so many people in so many different ways. I mean, he made everyone around him be better because they just wanted to…. I think his legacy is his resilience and making everything positive no matter what–except maybe the Giants' football record. Even Charlie couldn't do that."