SGA's Change Wars facing some changes: more info on the delay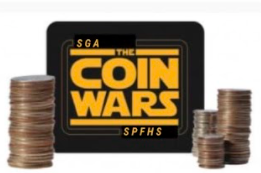 The Student Government Association, or SGA, has an exciting new competition: the Change Wars, starting Monday, April 12th. The goal is to donate as much spare change to your class as you can, and the class that wins (by having the most loose change) will get to choose a cause for the funds to be donated to. Bins will be set up in the lobby by the main office. Originally this event was planned for Monday, March 15. However, due to some concerns, the Change Wars was delayed. Thankfully, the change wars are on their way!
"During COVID, SGA has discovered a lot of challenges in updating typical school events we organize, and we've noticed that school spirit has been somewhat lost along the way," junior SGA representative Sofia Ciullo said. "So, we thought of Change Wars as a new way to bring the school, not just individual grades, together, and raise money while we're doing that. It's really an excellent way to do something great for our community."
Other members of SGA agree that there are many benefits of this new activity, especially concerning the current climate.
"We were brainstorming ways to hold school events during this global pandemic and period of online learning when we came up with Change Wars," senior SGA representative Ryan Eng said. "We thought it was an exciting and safe way to get the student body involved in community service and raising money for charity."
Clearly, this year has had some sobering effects on us all, highlighting our need for more encouraging activities. 
"I'm kind of sad because in years past, I created a really strong bond with the other SGA members but this year I haven't really gotten that opportunity because everyone is virtual," Senior SGA representative Rohan Shah said." However, I'm glad that we are still able to participate in events like freshman orientation, spirit week, Change Wars, etc". 
Check out the school website or reach out to a representative if you have any more questions. Finding some spare change can be a great way to help your community and unite the school during these hard times! The change war is sure to be a success!