"Our eyes are set on the McMullin Division Championship," Gunther says, as Raiders ice hockey looks to turn a corner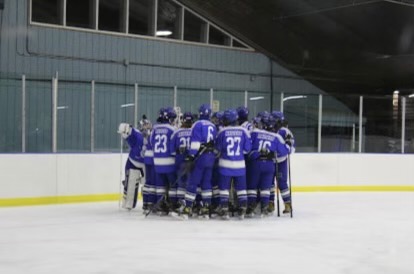 Nov. 19, 2020 was the day the New Jersey State Interscholastic Athletic Association (NJSIAA) released their plan for winter sports —a plan that would postpone the ice hockey season, leaving coaches and players alike in question about the state of their year. Two months later, Raiders hockey is back in action. 
Coached by Matt Gunther and led by senior captains Will Mauer, Lucas Mackey and Paul Harris, the Raiders look to finish with a positive record and establish strong bonds and chemistry that the team may have lacked last season.
"Our goal is to win a division title," Mackey said. "Anything short of it would be a disappointment for this team because we know no team in the division deserves it more than us. We will work harder and smarter than any opponent in our way."
Raider's Ice Hockey is full of young talent such as sophomores Anthony Tittanegro and Dylan Matthew and junior Zack Harmer, who will be playing a supporting role on a  senior-heavy squad. The loss of 10 seniors from last year left multiple spots open on varsity and are providing a more important role to younger players trying to prove themselves. 
Unfortunately, the raging COVID-19 pandemic has made its mark on both spring and winter sports, taking away opportunities for players to develop their game. 
"This season has been and will be a whirlwind of changes and cancellations," Coach Gunther said. "The coaches and the players are taking the protocols very seriously as we were already shut down during the preseason for 2 weeks."
The ice hockey team was shut down temporarily due to exposure, but has not skipped a beat, entering the rink looking stronger than ever. The team is 2-0 thus far after dominating Jonathan Dayton and West Orange. 
"Something that we have really enjoyed this season is a relaxed approach of leadership," Mackey said. "Leading by example rather than leading by words has been something that has allowed everyone to step up and be accountable. It has taken the team to the next level."