The "Tattooist of Auschwitz" by Heather Morris is a intense love story that shows the importance of perseverance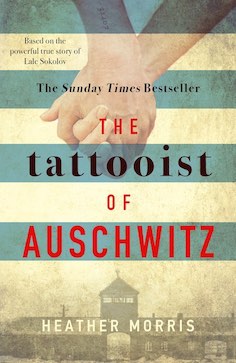 by Charlotte Gumpel
An unsettling but entrancing novel, "The Tattooist of Auschwitz" by Heather Morris is a true story that follows Lale, a Slovakian Jewish man caught up in the horrors of the Auschwitz-Birkenau concentration camp in the midst of World War II. A likeable and smooth-talking multilinguist, Lale finds himself quickly appointed as the camp's tattooist, the man responsible for inscribing prisoner's numbers on their arms. He soon meets and falls in love with Gita, a fellow inmate. But can their love survive the horrors of life inside a concentration camp?
Historical fiction is one of my favorite genres to read, and I always find myself gravitating towards World War II novels, simply due to my own familial connections to people who lived through it. One of my most cherished books, "All the Light We Cannot See" by Anthony Doerr (review on thefanscotian.com!), follows the intersecting stories of a blind French girl and a young soldier in the Third Reich. Another infamous one is "The Book Thief" by Markus Zusak, a story cleverly narrated by Death that follows young Liesel in the beginning stages of World War II in her hometown of Germany. While both stories are set in the midst of World War II, neither plots revolve around Jewish characters. I have always unconsciously abstained from any stories about concentration camps. I would rather read a nonfiction novel about them, since any romanticizing or sugar coating is entirely too popular (and inappropriate). However, seeing this was a true story convinced me to open The Tattooist of Auschwitz and give it a chance. 
We witness firsthand the atrocities that Lale witnesses on a daily basis, and also the personal treatment he gets from the guards at the camp. Despite knowing Lale and Gita survived their story, I could not help but feel terrified for their lives. Books like this must be published and read, as I think despite everyone knowing what the Holocaust was, I believe that many are in danger of forgetting just how truly horrifying it was. The deepest, darkest depths of humanity. 
The story, no matter how it is presented or written, is emotional and powerful within itself. However, I found that the writing of this story was very one dimensional. Morris is a screenplay writer, and it reflects very heavily in this story. It is extremely dialogue heavy, with not much description. It is almost as if Morris wrote this story with a film adaptation in mind. The words fall flat, but could be brought to life through its performance, and the setting could be described through panning shots and cut scenes. The writing is very matter-of-fact and does not really allow any room for inferences or empathy. There is a lot of focus on the romance, but I would have loved a little more description as to what life was like. But I understand that it is the couple's story to tell.
I am a little conflicted because the factual writing style is a double-edged sword in a sense. There was absolutely no sugar coating or romanticizing of what happened in these camps, thankfully. It is easy to get caught up in a adjective and meptahor-heavy story that glazes over the atrocities of the Holocaust, but Morris time and time again made the violence clear, as it should be. On the other hand, there was no emotional depth to anything. I felt detached from Lale and Gita and felt like I was watching things happen, but I had no input as to how they were feeling. With being such an emotive topic, I found myself being a little apathetic at times, and that in itself is very upsetting given the setting.
Overall, "The Tattooist of Auschwitz" within itself is a good read due to the sheer power and emotion of the real life events. However, the writing and execution is not up to par with the story. I think a story with a different author might have given Lale and Gita's story justice. I believe that there are better options out there with the right balance of facts and depth, but that does not take away from the lessons that can be learned from this book.