Albums from 2020 that I give a 10/10
While it is no secret that 2020 hasn't been the greatest, something we can always count on to make a year memorable is the amazing music released. Even during the darkest of times, music can serve as an escape from our worries and a source of comfort and joy. 
"Music helped me a lot through quarantine," senior Rebecca Hernandez said. "I'd listen to music to help me with motivation and as a distraction. I would also have a bunch of random midnight dance parties which helped me feel better."
With the year 2020 finally coming to a close, it's time to take a look back at some of my favorite albums released that made this past year just a bit better. 
3.15.20 – Childish Gambino 
As the title suggests, Childish Gambino's fourth and possibly final album was released on March 15, right around the time when the world shut down due to the spread of the Coronavirus. The album, four years in the making, follows in the footsteps of 2016's "Redbone": an experimental, genre-bending and sometimes even trippy listening experience. Including guest vocals from artists such as 21 Savage and Ariana Grande, each song provides a new and unique sound, coming together beautifully as one complete project. In my opinion, the best way to listen to "3.15.20" is from start to finish, so if you have an hour to spare, give it a listen! 
My favorite tracks: "Time" (feat. Ariana Grande), "12.38" (feat. 21 Savage, Ink & Kadhja Bonet) and "19.10"
Circles – Mac Miller
Mac Miller's tragic passing just weeks after releasing his fifth studio album "Swimming" left the rap and pop culture world devastated; at just 26 years old, it was clear that Miller was just reaching the peak of his career. Less than two years later, fans rejoiced as it was announced Miller's sixth album, "Circles" would be released posthumously. The album was met with widespread praise from critics and fans alike, many considering it to be his most mature project. "Circles", like "Swimming", gives listeners a look into the late artists' struggle with depression, but with a more optimistic tone. It complements his last album perfectly, truly coming full circle. 
My favorite tracks: "Circles", "Good News" and "Hand Me Downs"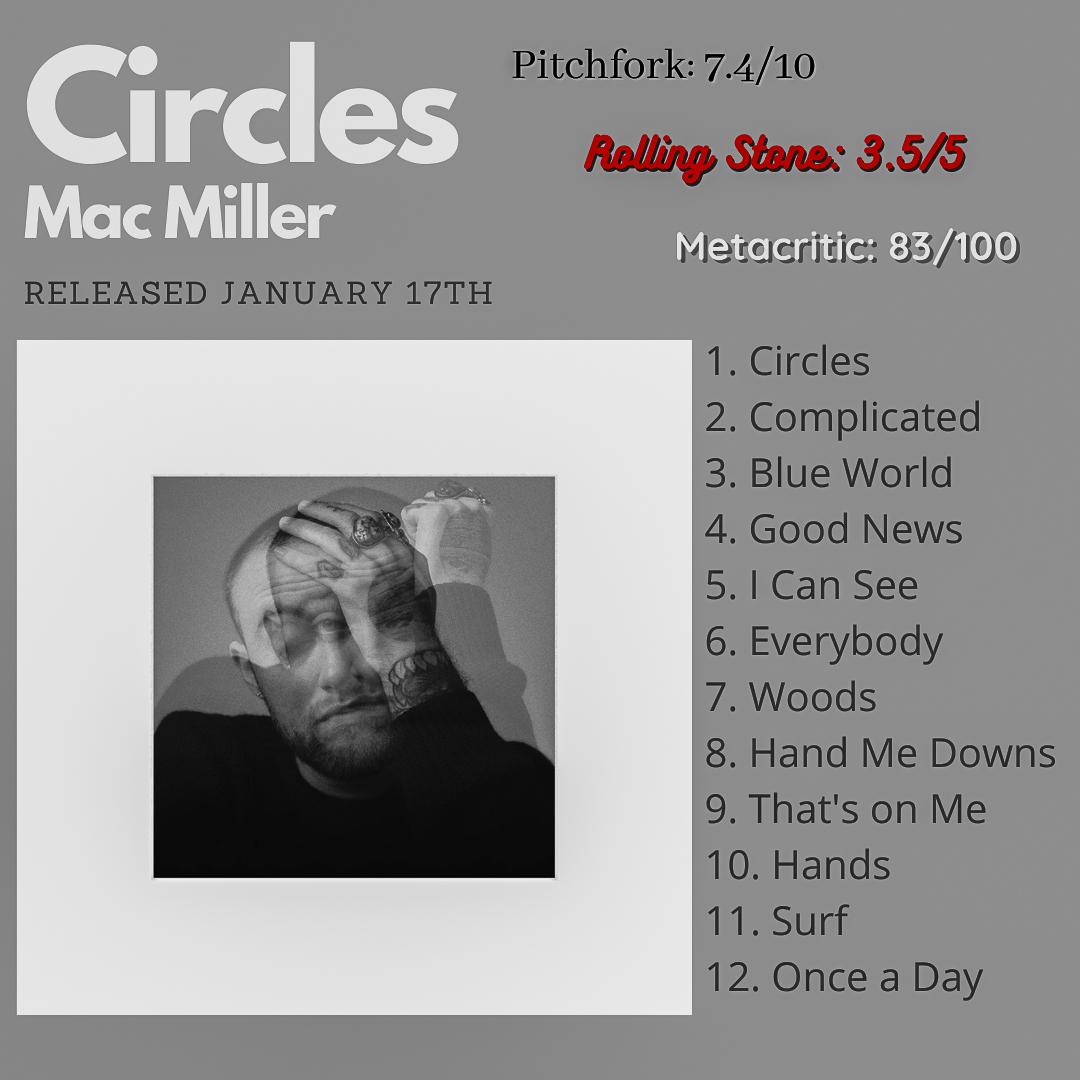 The Slow Rush – Tame Impala
Tame Impala, aka Kevin Parker, has been a household name in the music industry for the last 10 years, making genre-bending music that has been described as everything from psychedelic pop/rock to disco synth. It is Parker's electric sound and mesmerizing voice that has attracted artists such as Kanye West and Travis Scott to collaborate with him. Expectations were high after Tame Impala's critically acclaimed 2015 release "Currents", and with "The Slow Rush", these expectations were met. Parker, a self-proclaimed perfectionist, centered this album around the concept of time and how it relates to his various life experiences. Each song feels like a new adventure that makes you want to get lost in the music and dance. 
My favorite tracks: "Breather Deeper", "On Track", and "It Might Be Time"
As the pandemic continues and the world continues to change, the music industry has been forced to make adjustments, one of the biggest being the absence of in-person concerts for the foreseeable future.
"I have been seeing a lot of artists do virtual concerts and performances on different social media platforms," senior Ciara Worthey said. "I definitely think that could be the future of music during these uncertain times."
However, through times like these, it's important to stay positive and hopeful for the future. 
"While quarantined in my home, music was a way of coping with stress and anxiety," senior Brianna Chaves said. "I was in a state of mind where I thought this pandemic would never come to an end, and that I would be forever trapped at home. But by listening to my favorite artists and paying close attention to positive lyrics, it reminded me that at the end of the day, everything was going to be okay."