Spice things up this holiday season with a new recipe
One of the key elements that makes the holiday season so joyful is baking. Whether one is an avid baker or has never picked up a whisk in their life, the excitement of the approaching holidays brings out the baker in everyone. To shake things up this season, here is one of the many holiday desserts that are typically seen as uncommon– especially when compared to the popular gingerbread, sugar cookies, and classic chocolate chips. 
Rice Pudding:
Ingredients
¾ cup uncooked white rice

2 cups milk, divided

⅓ cup white sugar

¼ teaspoon salt

1 egg, beaten

⅔ cup golden raisins

1 tablespoon butter 

½ teaspoon vanilla extract
Directions
Step 1


Bring 11/2 cups water to a boil in a saucepan; stir rice into boiling water. Reduce heat to low, cover, and simmer for 20 minutes.

Step 2


In a clean saucepan, combine 1 1/2 cups cooked rice, 1 1/2 cups milk, sugar and salt. Cook over medium heat until thick and creamy, 15 to 20 minutes. Stir in remaining 1/2 cup milk, beaten egg, and raisins; cook 2 minutes more, stirring constantly. Remove from heat and stir in butter and vanilla.
*If desired, cinnamon may be sprinkled on top once the pudding is cool and set*
Background:
To some, rice pudding may seem like a traditional holiday dessert, but over the years it has lost popularity amongst the younger generations who opt for more fun and decorative treats.  It is difficult to discern where rice pudding originated from; however, it is assumed that it started in ancient China or ancient India, where rice is most commonly found.  For those who have never had rice pudding before, it is essentially what it sounds like, a pudding that incorporates rice within it.  Although to be more descriptive it is typically a very creamy and slightly sweet dessert that if done right, has rice incorporated within to add texture.  Rice is not common in many of American desserts, so although one may be hesitant to try it (because they're afraid the rice will be hard or mushy and overall not to their liking) it's sweet vanilla flavor combined with the smooth texture results in a wonderful dessert.  Don't knock it till you try it.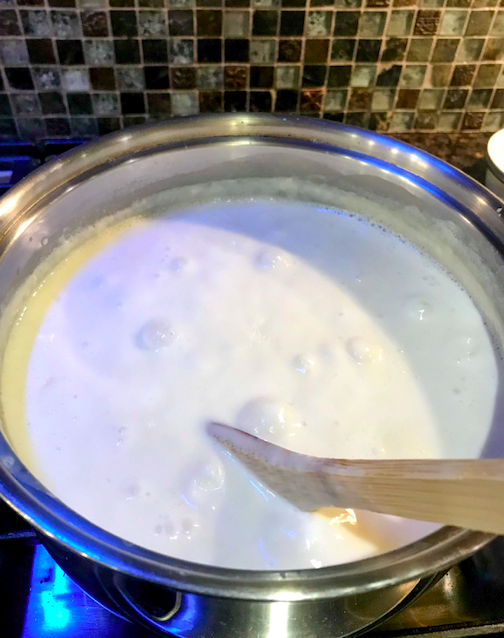 My experience:
Over the course of the year, my mom loves to make her signature rice pudding for family and guests, and to some, she is known for this amazing dessert.  Since it is often not that common of a dessert in our area, most usually reject tasting it at first, but with a little convincing, they agree to try it and instantly fall in love with it.  I've grown up with her rice pudding recipe, so the thought of it does not seem abnormal or strange to me.  Although everytime I mention it to my friends they often jump to the conclusion that it isn't for them, which at least within my community is understandable because I have yet to meet someone who eats it as often as my family does.  My older brother, who is an incredibly picky eater, requests it for his birthday dessert every year.  It's safe to say that it's his favorite dessert–but only this recipe.  It is a difficult dessert to learn, I must say.  This recipe definitely requires more labor and time than most, but in the end, it is always worth it.  It requires patience and time which is honestly the hardest part, but don't let that scare you away.  Try making it once and if you hate it, you don't ever have to make it again.  There's no harm in trying new foods, especially dessert. So might as well try to expand on your book of recipes, especially in the spirit of the holiday season.