Coach Luke Piede named NJ.com Girls Tennis Coach of the Year
Last Wednesday, Dec. 2 2020, varsity girls tennis coach Luke Piede was named the NJ.com girls tennis Coach of the Year. 
"Although I was named coach of the year, the award is really a recognition of the accomplishments of the players on the team," Piede said.  "They made me look good." 
This incredible feat by Piede came after the Raiders moved up to the Watchung Division of the Union County Conference and went 11-0. The Raiders also won the Central East B (Group 3) sectional title for the first time since 1996. 
Piede highlighted junior Anna Szcuka, who has gone an incredible 60-6 in her first three seasons as 1st singles as a critical reason for his success as a coach. 
"Her faith in me opened the rest of the team to my coaching," Piede said. "Because tennis is played off-site and girls tennis, in particular, has not had much success in decades, I do not think the SPF community is fully aware of the incredible athlete and person they have in Anna Szczuka. She provides the ideal of what it means to be a student-athlete."
In a turbulent year, Piede and the Raiders delivered one of the most memorable seasons in recent history for SPF. 
"Winning a regional group championship was an incredible accomplishment, but I think what made this team really different is that it was never really about championships to them," Piede said. "Even if there were no championships and no honors, they would have played just as well because they find so much joy in playing the sport of tennis."
About the Writer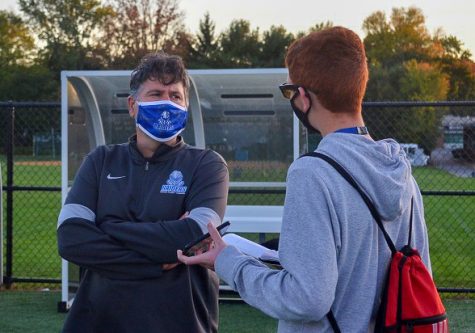 Matthew Levine, Editor in Chief
Fanscotian co-Editor-in-Chief Matt Levine is a senior at SPFHS who also writes for TAPinto and has a podcast called The Matt Levine My Generation podcast...