Senior Carly Rinaldi surfs her way through the summer
The students, staff and town residents are all familiar with the sports Scotch Plains-Fanwood High School (SPFHS) has to offer and there's a good chance that you or someone you know plays or played for the school during their years here. Soccer, basketball, football, baseball, hockey, tennis and so many other school sports make SPFHS so special. Between attending games with friends and family, going to practice after school, winning county tournaments and/or state championships, it's safe to say that sports is a huge deal here. But what about those students who play a sport different than what SPFHS has to offer? One of those students is senior Carly Rinaldi. Rinaldi loves to surf down in Mantoloking, New Jersey and often spends the majority of her summer doing just that.

Q: What made you want to start surfing?
A: I've always loved the look of surfing, I've watched surf competitions all my life; however, what really motivated me to start was being surrounded by all of my beach friends who are really talented surfers. I wanted to join them so badly so I pushed myself to paddle out with them and ever since, it's been my favorite [activity] to do.

Q: Did you ever take lessons or are you more self-taught? Why did you choose to learn it the way you did?
A: I am self-taught, I kind of just figured out what worked and didn't work in the beginning and caught on really quickly. Many surfers around me in the water would give me tips along the way. I never really wanted to take lessons because the sport was so familiar to me. I felt like I could figure it out on my own, especially since I am surrounded by so many people who know how to surf.

Q: What do you love most about the sport?
A: I love the feeling of being on a wave. Standing on my board while gliding across a wave is such a specific feeling that can't be compared to any other sport. It's also just so much fun getting to be in the ocean and spend time with my friends and family out in the water all day.

Q: How has surfing impacted your life as a whole?
A: It has taught me to rely on myself way more. The ocean is really unpredictable and some days the water is super intimidating so you have to be prepared for it to be challenging. Half of surfing is also falling, you either fall off your board while on a wave or fall off your board because a wave crashed on you. You have to be resilient and just keep pushing because there is no option to stop since you are out in the water.

Q: Were you afraid to start surfing? Why or why not?
A: I wasn't afraid, but I was definitely intimidated because it's a very physically demanding sport and sometimes the water is so rough it's really easy to get injured so that part of it made me nervous.

Q: Has the fact that surfing is slightly uncommon in New Jersey raised any obstacles for you?
A: The only obstacle I can think of is having to figure out what brand and style surfboard I should purchase because it's a really personal and specific thing to have to get, so if you aren't around professionals who know what board can fit you best, it can be hard to continue the sport. Luckily though, in the town I surf in, Mantoloking, NJ, there are surfers everywhere so it was more difficult to not know how to surf since that's mostly what all my beach friends would do. I felt like I would be missing out if I never learned the sport and they often helped me figure out what boards would be the best fit for me.

Q: What would you say to someone who wants to start surfing but is hesitant to?
A: Definitely go for it! No matter how challenging or intimidating it is in the beginning, just keep paddling back out and take every wave you can! Never give up because it grows to be so much fun and such an amazing experience.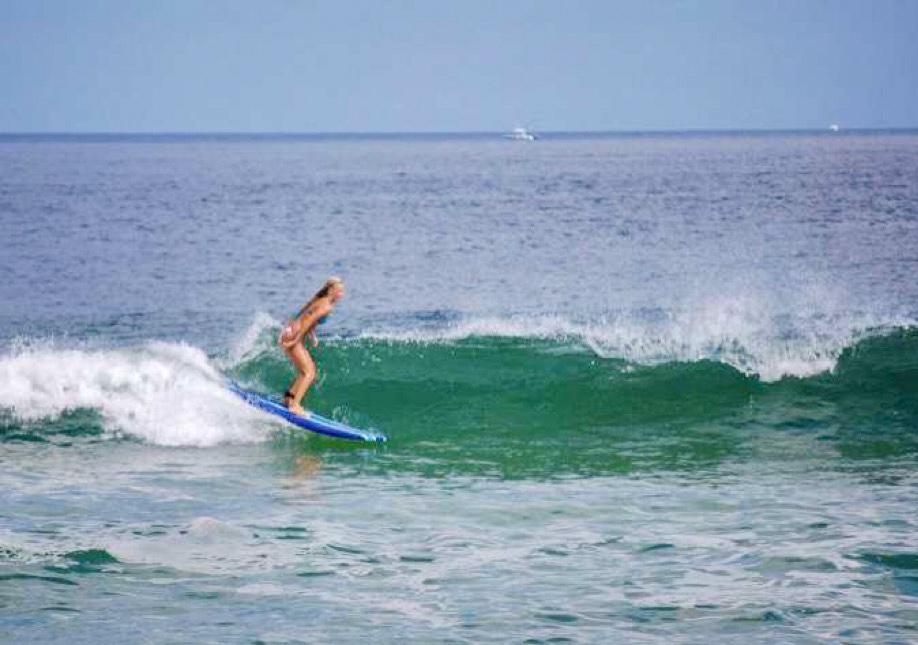 It's clear that Rinaldi has found her passion outside of the typical realm of sports and is so grateful that she did. Rinaldi encourages everyone to take up surfing if interested and don't hold back!
by Hannah Kriney