Always Moving: Despite Virtual Learning, Joe Higgins Never Stops Being Himself
"Stand back," Rich McGriff said, standing about six feet away from Door 12.  "What are you here for?" 
Once upon a time, McGriff's job was to make sure everything running at Scotch Plains-Fanwood High School was going smoothly, but now it's temperature checks, health forms and questioning why a student like me has a backpack ready to come to school. He is the gatekeeper of this ghost town.
That's how the morning began. 
***
Economics and United States History teacher Joe Higgins is a familiar face at SPFHS. With 19 years of teaching in the same four wall, windowless classroom, Higgins appeared from the media center in an outfit that – if we were in school – would be reserved for Fridays: jeans, a polo, and now, a mask. 
Towards all of his classes, Higgins brings a unique energy that – if you never had him – you would find quite strange. Constantly moving around the class incorporating various objects into his lessons, his loud but effective approach is contagious whether in-person or on screen. 
"I've been in this classroom for 19 years now," Higgins said. "I'm used to the no windows part but I get restless quickly. I'm always moving around, and that's not really out of some high-level teaching strategy, that's just my general restlessness. I don't know if it's nerves or whatever but I'm always moving." 
Higgins begins the day teaching "Intro to Econ," an introductory course about the general concepts of micro and macroeconomics. His following period tackles AP Econ, diving into the intricacies of supply and demand with students that range from sophomores to seniors. 
A few minutes before 8:30 a.m., Higgins opens up the Google Meet for students to join. After opening up the Meet, he quickly greets a student finishing up a poor man's version of the "Breakfast of Champions:" frozen Eggo pancakes. One of the perks of virtual learning is the ability to eat meals, unhealthy meals, that is, whenever it suits you. 
The class reviews a previous homework assignment that focuses on the determinants of supply and demand when Higgins incorporates his famous propensity for recalling movie lines. 
Higgins calls on a student to answer a question about the homework when the student looks at him perplexed, responding, "Sorry, I spaced out. Can you ask the question again?" 
Pretty bold to admit you weren't listening in class. But, Higgins isn't any ordinary teacher.
"SPACE OUT," Higgins said. "Well, I generally come in at least fifteen minutes late, ah, I use the side door – that way Lumbergh can't see me, heh – after that I sorta space out for an hour." 
And with that, back to economics.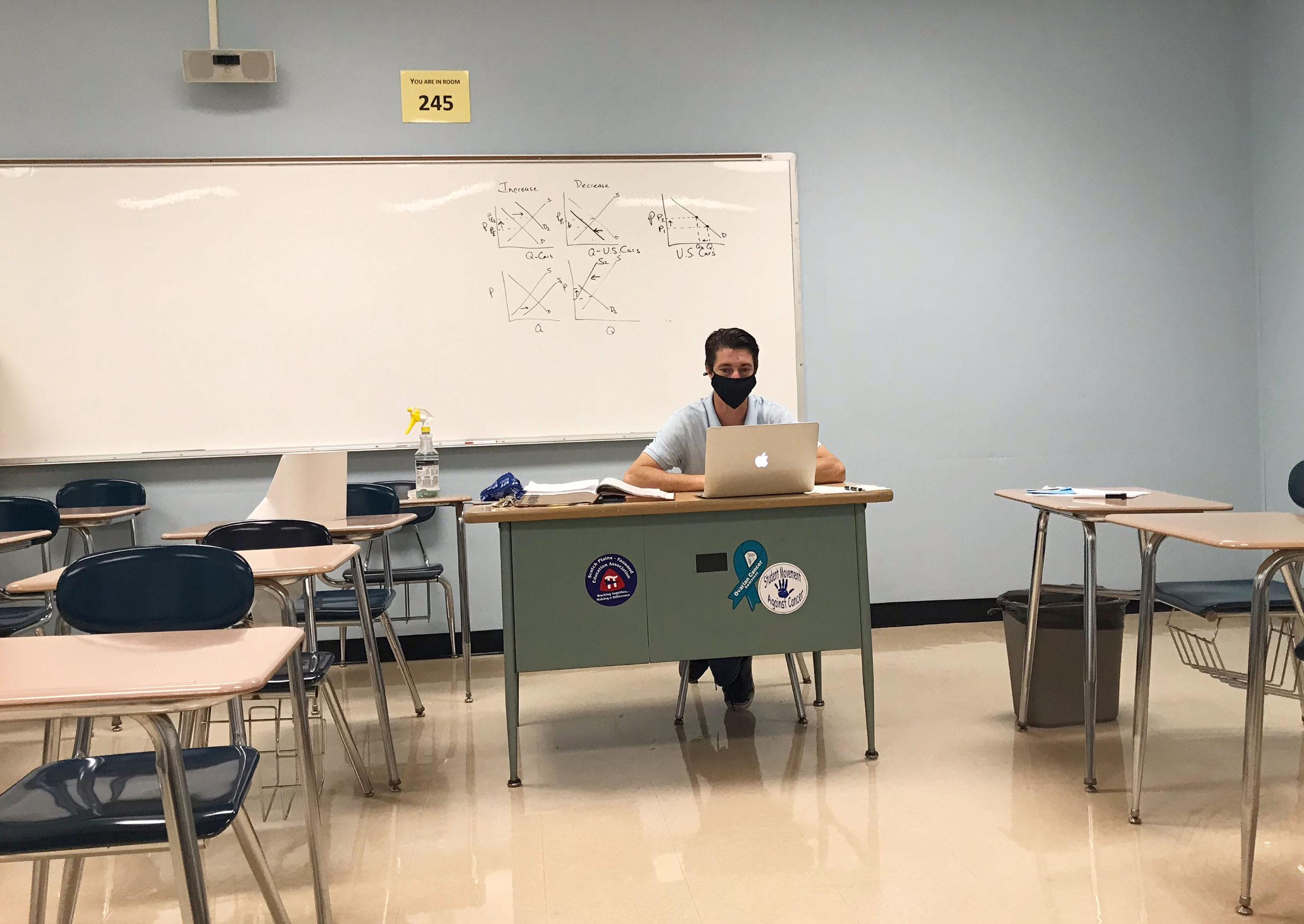 As five minutes pass, Higgins reads out the next question relating to whether demand will increase or decrease for cars when families look forward to summer vacation. Spontaneously, he connects this prompt to another famous comedy: National Lampoon's Vacation. 
"My weird brain is full of stuff like that, those were things that, I guess I got lucky that they hit me on the spot," Higgins said.  "I didn't plan those things, and then luckily after I did it, I used it again in the next class because it [the reference to Vacation] fits there. I think a lot of the best stuff  I do is spontaneous, and it's not textbook in terms of planning because I've never been a strong planner in that respect." 
At the conclusion of class periods, Higgins often uses the 15 minutes between blocks to use the bathroom and speak with his colleagues about things they are doing in their classrooms. Higgins is constantly looking for new ways to enhance this–sometimes challenging–virtual learning experience
 "I always think I have a lot of energy for class," Higgins said. "So far I don't think I've gotten to the point, in this setting yet, where I'm confident about that [energy] every day. Every day I think I come in, saying, 'gee, I hope this can be a lively discussion.' I hope that there's engagement, but I'm more confident when the students are here."
Despite having great days, for Higgins and teachers in general, virtual teaching has definitely cast some doubt about if what they are doing is a success amongst the students. If anything, this has been a humbling experience. 
"Even if I have a good class or a good day where I do have lots of energy, I'm not coming into school that confident about it yet because it's just a very different setting to get that engagement," Higgins added.
 
Before lunch, Higgins notifies me excitedly of the phase-in date for hybrid, Nov. 16, as he comes to the reality that hybrid teaching will be a major adjustment teaching two classes at once: one on a screen and another one in-person. 
"I've heard from teachers who were already doing hybrid and they say you're going to have to be careful," Higgins said. "It's easy to feel like you're just teaching to the kids at home and forget about the students that are in the room and you don't want them to just become spectators of you teaching the kids at home." 
As Higgins' final period awaits, after having an extra-long break due to lunch followed by a free period, Higgins approaches his US II History class with the same tenacity he brings to his other classes. He logs on, opens the meet and finishes off the day before boarding a bus to New Providence to coach the freshman girls soccer team. 
"Don't give me too much credit, my brain just can't focus on only one thing," Higgins said. "I'm always here and seeing different things in different ways. That's the way I'm wired, so don't give me too much credit. It's not like a master plan or anything."