2019 Straight Walk with Curvy Girls event to be held June 1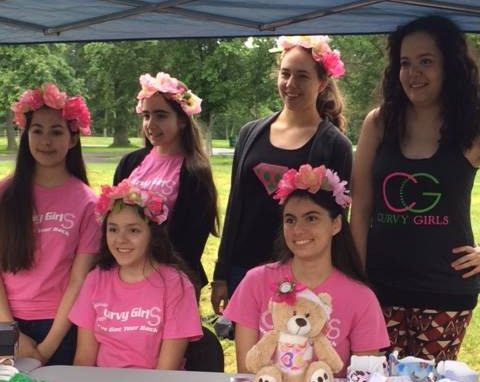 While it may be unknown to many, June is the International Scoliosis Awareness Month– and the Curvy Girls Scoliosis Foundation New Jersey Chapter is working hard to bring awareness to the community. On June 1, 2019, they will hold the 4th annual Straight Walk with Curvy Girls in Maxwell Park in Hoboken, New Jersey. The scoliosis awareness walk runs from 11 a.m. to 2 p.m., and all donations are given to the Curvy Girls Scoliosis Foundation.
During this time, there will be music, raffles and great food. It is described as a family event, fun for both adults and children. The members of the New Jersey chapter have been working hard to make the event a success– they've made homemade cookies and taken to Facebook to invite people from around the state.
The event has also received the support of local businesses and food chains.
"Trader Joe's in Hoboken donated this awesome gift bag for the raffle at prizes the walk next week," New Jersey group leader Gianna Calligy wrote. "Come out for a chance to win these yummy treats and many other great prizes!"
Other raffle prizes include a Lily Pulitzer gift basket, a Salon Cary gift basket, an Athleta gift card and even a $300 gift card to Kodak Jewelers.
Calligy is a senior at SPFHS, and has been working with the Curvy Girls for several years.
"Walking into my first meeting, I felt understood for the first time in years," she wrote on the Curvy Girls page. "I learned how to speak up for myself and advocate for Scoliosis in general."
Curvy Girls has helped Calligy raise awareness among her peers. Scoliosis primarily begins to affect people at 10-15 years old, which is why the group is so important. Scoliosis is defined as the "abnormal lateral curvature of the spine" by the American Association of Neurological Surgeons, and can range from mild to severe. If the angle of the spine's curve is large enough, it can cause debilitating pain and requires treatment. Treatment ranges from observation and bracing to spinal surgery.
Calligy has helped raise donations for the group and, with a grant from Keds, started the annual walk. She's excited to run the walk again for the foundation this year.
"In years past, we've raised enough money to sponsor the life-saving spinal fusion of a child in Ghana and many other missions in raising awareness and support," she said.
The Curvy Girls Scoliosis Foundation was founded by teen Leah Stoltz in 2006 as a local support group for people with scoliosis. It later became an international organization, and is unique in that it is run by and for students. The support groups connect young girls with scoliosis with each other, and is a safe place for them to share their experiences. They also run support groups for parents of girls with scoliosis, and have mentors who recovered from scoliosis in their teens.
Through the group, Calligy met and was inspired by people who had similar stories to hers.
"[I met] girls in braces, girls that had gotten through bracing with relatively large curves, [and] girls that had survived the surgery I feared," she said.
During the lengthy process of diagnosis, treatment and recovery, she is able to get and offer support.
"My curve is still unstable, so I may need surgery, but I feel confident that I will get through what's left of my Scoliosis story with the support of the Curvy Girls," she wrote on their website. "No one should ever feel alone. Curvy Girls has become a safe place for me and I want to ensure that the next generation of Curvy Girls have that same support."
The Curvy Girls Scoliosis Foundation has been featured in Teen Vogue, the Teen Nick HALO Awards and contributed to "Straight Talk with the Curvy Girls," a guidebook-type book on living with scoliosis as a teen, written for those recently diagnosed. The New Jersey chapter can be contacted through the easy-to-navigate website, www.curvygirlsscoliosis.com, or their email, [email protected].