USWNT takes action against the gender wage gap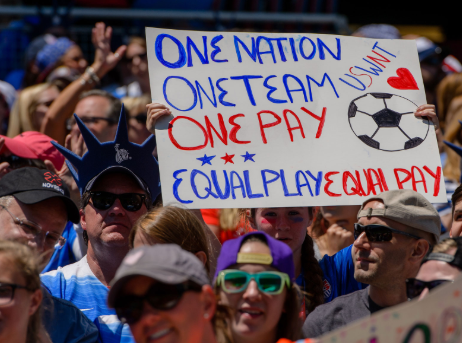 On March 8 the United States Women's National Soccer Team (USWNT) filed a lawsuit against FIFA under the circumstances of the gender wage gap.  For years the members of the USWNT has been fighting against FIFA to get the pay they deserve, but it wasn't until now that they took action.
Over time, the women's team has shown superiority over the men's team and have shown that their team is better in the women's league than the men are in their league.  They have had tremendous successes over the years, such as winning three World Cup's and four Olympic golds. The men's team have have won zero World Cup's and zero Olympic golds.
"I believe that they should be pursuing this lawsuit. It's insane how both teams are playing and traveling constantly and yet they are not getting paid equally. Even when the men did not qualify for the world cup and the women did, the women are still getting paid less," one junior said. 
It is no secret that the USWNT has had better success than the men's team, and that's what makes this gender wage gap such a big deal.  Back in 2015, the women's team won their third World Cup and yet still were paid four times less than the men's team who were knocked out in the Round of 16.  According to the online newspaper The New Republic, the women's team was paid a total of $2 million while the men's team won $9 million and the victor of the men's league won $35 million.
"It's ridiculous that there have been so many years in history where women and men did not get paid equally and years later there is still a wage gap. The government even had to make an act made to prevent this and now they are going against this act and being unlawful."
It is argued that soccer is a revenue sport and that the fact of the matter is, is that men's soccer has more viewers and therefore bring in more revenue; however, with the success rate of the women's team they should be receiving equal of not more pay than the men's.
The USWNT has been pushing FIFA for years to make a change and fix this issue and after years of persistence with no result, they are finally taking action.