Spring cleaning: organizing your room, mind and life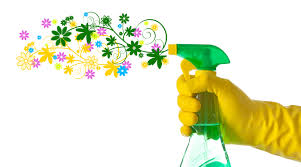 With spring around the corner, many enjoy participating in their own versions of "spring cleaning." However, this term does not only mean sweeping and dusting— springtime can be a great opportunity for reorganizing one's belongings as well as one's well being. Here are a few suggestions for ways to try it out.

Go through old clothing
With changing weather, spring is a great time to look through old clothes and decide what is or isn't worth keeping. Chances are that there are multiple things piled in the back of a closet or drawer that have seen better days or are simply out of style. To remove clutter, consider donating clothes that don't fit to a local clothing drive or giving/selling them to friends.

Extra tip: Do DIY projects with old clothes, such as cropping an old sweatshirt or tee.

Organize your desk or backpack
For many high schoolers, a desk becomes a black hole of old homework assignments and projects. If this hasn't been cleaned throughout the past few years, clearing out old papers might be in order. Cleaning out a backpack of unneeded worksheets and notes can also help to relieve stress for the last quarter of the school year.

Extra tip: Make one folder full of a few important sheets from each class in case of later need.

Make a new playlist
For many, music is an outlet or escape from the stresses of life. Therefore, a fresh spring playlist can be the key to a free mindset for the spring. Add some new songs from this season, as well as old favorites for the perfect musical getaway.

Extra tip: Include songs that are reminders of summer for a happiness boost with every listen.

Redecorate your room
Re-organizing a bedroom does not always have to be a crazy task; it can simply mean moving some things around or buying a new poster or pillow. Whatever this may mean, doing some redecorating is a great way to do something new and motivate future cleanliness.

Extra tip: Print out photos of friends and family to post around the room.

Make a new workout routine
Sometimes, exercising can become a burden after following the same workout routine for months, or even years. Throw in a new machine or weight routine to ensure more results for the springtime and bring the fun back to working out.

Extra tip: Find a home workout video that seems appealing; working out doesn't always need to be hardcore at the gym!