Poetry Out Loud brings a new kind of art to SPFHS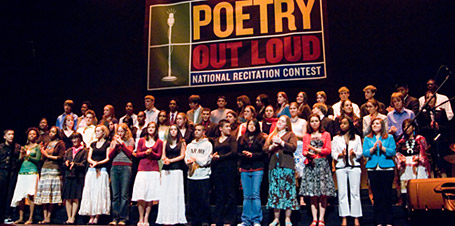 A student steps onto a stage and starts reciting a poem to a group of students. This is what Poetry Out Loud is all about. The competition, which took place on Jan. 9, encourages students to see who can recite their poem with the best skill.  

The state finals for New Jersey will take place on March 12th. The national semi-finals on April 30th and the national finals on May 1st will be located at Lisner Auditorium at The George Washington University.

The finalists read their poems with emphasis and a variety of emotions, ranging from anger, sadness and frustration to joy, calm and confusion. The students also used hand gestures to accompany their tones and capture the audience's attention.

According to poetryoutloud.org, techniques the reciters needed to master for the competition were physical presence, voice and articulation, dramatic appropriateness, evidence of understanding,and accuracy. Overall performance was judged as well.

There was a panel of six judges from Scotch Plains-Fanwood High School, along with English classes cheering in the audience. The winner of the competition, Raina Jablon, will go on to Regionals.

The finalists presented two poems, one in the morning and one in the afternoon.

The students were introduced and a few of their hobbies and sometimes their favorite poets were announced. Before and after all of the poetry was read, a band consisting of guitar, drums, piano and saxophone instrumentalists played. They played well-known throwback songs such as "Apologize" by One Republic and "Get Lucky" by Daft Punk.

Poetry Out Loud brings together students all over the country to enjoy and recite poems by a multitude of poets.