Writing 50,000 words: National Novel Writing Month 2018
The beginning of the article was printed in the second issue of The Fanscotian print edition. 
Two page essays can be a struggle. Coming up with an idea, finding evidence and analyzing quotes—it's not always easy. A 50,000 word novel, though? For many, that's just a typical November. National Novel Writing Month (NaNoWriMo) is an annual event that takes place every November where participants attempt to write a 50,000 word novel in a month, meaning a little less than 2,000 words per day. Many novels written during NaNoWriMo have gotten published, including Rainbow Rowell's "Fangirl," and Erin Morgenstern's "The Night Circus." In 2017, over 400,000 people participated. This November, I'm chronicling my month of writing.
Week 1
Alright. It's time to start writing. I have a long 50,000 words ahead of me, and I'm starting, as I do all things, late. Looking forward to the month, I'm worried about time management, which has been a problem in the past few years. Between school, homework, college applications, extracurriculars and sleeping, I'm not sure when I'm going to find time to write.
Coming up with an idea is the other struggle I'm facing so far. I opened up a blank document, ready to start writing, and all I did was stare at it. Part of me wants to start with a completely fresh novel, but most of me doesn't have the idea or stamina for that. In the past, I've had ideas for either characters, setting or plot, and this year I have none of the above.
After a few days, I decided on writing a collection of loosely related short stories, exploring topics like faith, hypocrisy, justice and love (a wide range of topics, but I have 50,000 words to cover). I'm super excited to start…tomorrow.
Week 2
I ended the first week with a little more than 2,000 words. I'm extremely behind schedule—the goal for the end of the first week is around 11,500 words. Some combination of procrastination and time mismanagement is keeping me from getting into a comfortable schedule.
It's only week 2, and I'm scrambling to get things done. I've taken to writing in places that are less than ideal–in my math notebook, in the margins of my guided questions for Oedipus the King, and on the backs of my AP Government and Politics notes, for example. My lunch period is now 20 minutes of cramming notes onto anywhere I can, and I can be found writing at 3:00 a.m. when I get a brilliant idea.
However, I've found that brilliant ideas are hard to come by. I've finished one story, and while there are a million plot holes and inconsistencies, it's on the page. That's the goal. So far, it's going. Not fast, but still going.
Week 3
I hit the 10,000 word mark on Monday, and the little bar on my word count tracker went up. If nothing else, that's super validating. I'm almost done with another chapter/story, this one told from the perspective of a kindergarten girl who innocently follows her older sister to a house party. I'm really excited by the writing style. It's fun to try to write from the perspective of a kid who doesn't have as good a grasp of the English language as the typical protagonist. I surprised myself with the twist ending, and it was fun to write.
I have several other stories started, but not finished. I know I'm going to have to go back and finish them before the end of the month, but right now, I don't really know where I'm going with them. With one, a story about an abusive relationship, I'm unhappy with the characters, and I'm not sure how to flesh them out better. I think one of the most important aspects of any story is the characters, and I'm not sure how to better portray these specific ones.
My favorite writing tool is a website called Fighter's Block. The goal is to get you to write anything without stopping. You give a word count goal—mine is usually 2,000—and it brings you to a writing document. You have to keep writing to get a little avatar to fight a monster, and when you stop typing, your avatar slowly loses health. It's motivating, and keeps me focused.
Even if what I write is bad, it's still on the page and that's the point of both the website and NaNoWriMo. This has been one of the best ways that I've been able to let go of all my expectations and just write without consequences, and I highly recommend it for anyone facing writer's block.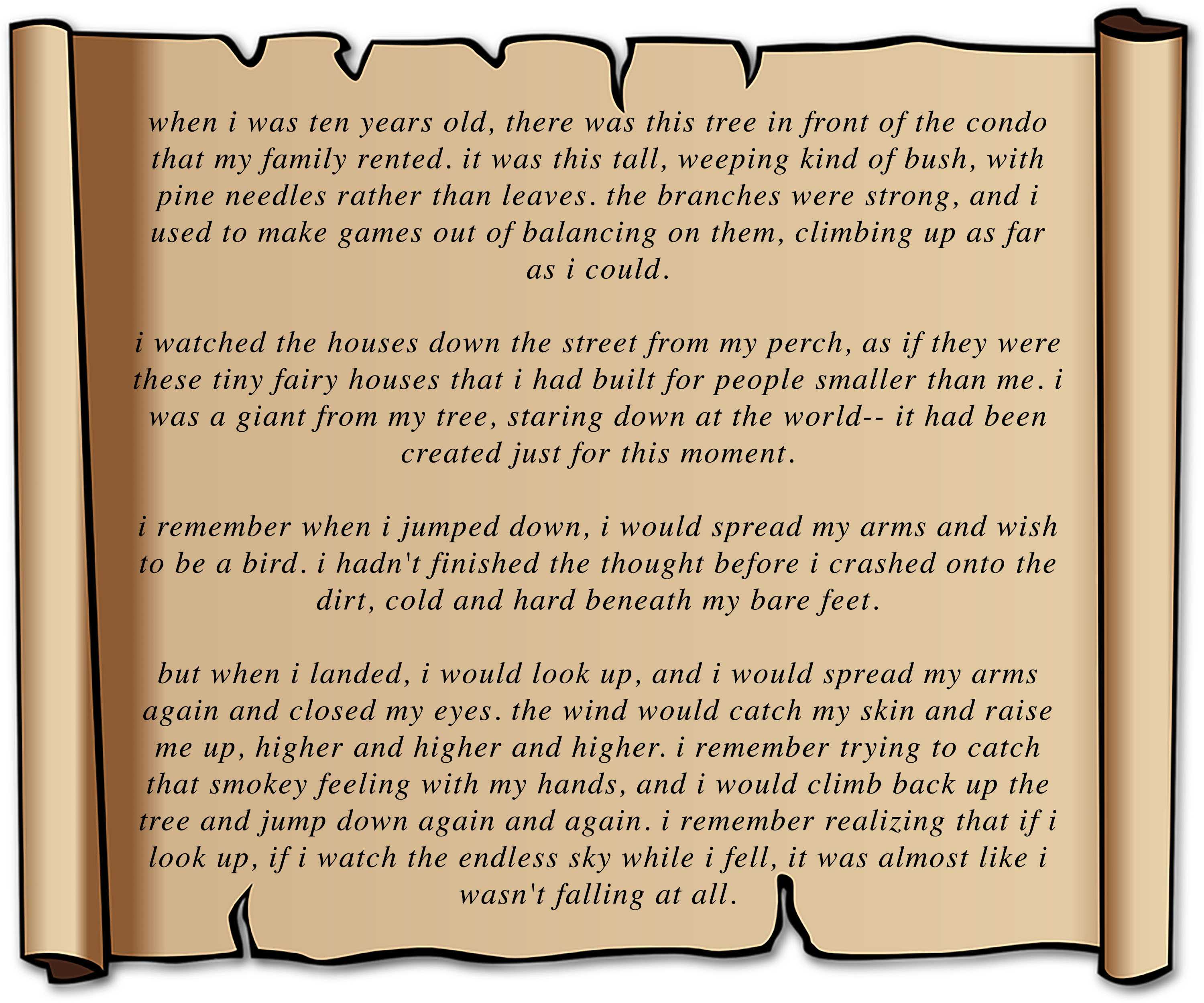 Week 4, Part 1
I'm so close, and yet so, so far. I spent all of Thanksgiving weekend eating, sleeping and writing. I wrote a total of 18,991 words in those few days, with a good 8,000+ on Sunday. According to the lifetime achievements counter on the NaNoWriMo website, it's the most I've ever written in one day.
But it's still disheartening to have written so much in one day, and still be 14,000 words away from my goal. To "win," I have to write around 3,000 words a day. I think it's possible, but it's definitely going to be stressful.
Week 4, Part 2
In this last week, I've managed to write over my goal of 3,000 every day! Having started so late, it's really exciting to look at my word count tracker and see the bar so close to 50,000. The NaNoWriMo organization sent me an email today congratulating me on getting so close, and that they expect me to finish. Even though the email was mixed with advertisements for winner's merchandise, it's still really validating.
It's the last day… I had about 4,00 words left, and I'm very excited to announce that around 9:58 p.m., I won! Over the 30 days of November, I wrote a total of 50,823 words.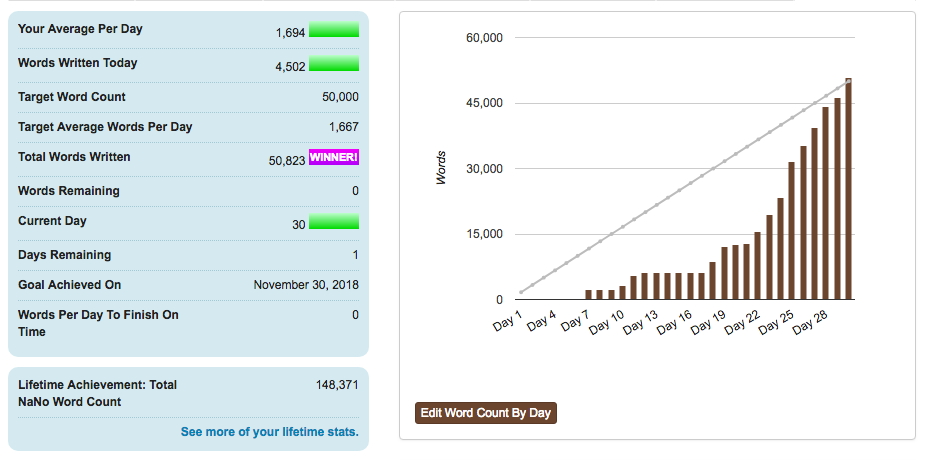 That's crazy. Over 50,000 words in 30 days. While I'm not 100 percent happy with everything I wrote, I'm really proud just that I was able to finish at all. It was a lot of sleepless nights, especially in the last week, but it's completely worth it, to have 20 finished short stories that are entirely written by me.
Overall, I highly recommend trying NaNoWriMo for anyone, especially people who love writing. It can be stressful and it's definitely a lot of work, but the feeling of finally finishing your project makes it completely worth it. It's a great way to find the motivation to write, and really want to make time for writing, rather than putting it off as not a priority. Camp NaNoWriMo happens in April and July, and I strongly encourage everyone to try it again with me.