Fall Sports Preview: Girl's Volleyball
photos by Alyssa Cordero
Girl's volleyball is looking forward to an exciting season. After graduating three starters– two middle hitters and a setter– they have fresh new talent and are hoping to make a push to county finals. Despite the varying ages of the varsity players, the team has a good dynamic; the players seem to have bonded before the season has even begun. The relationship between the Varsity team and the JV and Freshman teams is also strong; the upperclassmen are enthusiastic about guiding their underclassmen counterparts.
This year is the first time the team will be taking part in Westfield's annual "pink-out" charity tournament. They are also welcoming a new freshman coach who they hope will build a strong foundation for next year's Varsity and JV teams. This year, Coach Adrienne Stack seems to be focusing on building a sense of unity between all levels within the program. Stack and Varsity players Fallon Goldberg, Kristen Koederitz, Stephanie Ponterio, and Caroline Yessman shared their feelings about this upcoming season.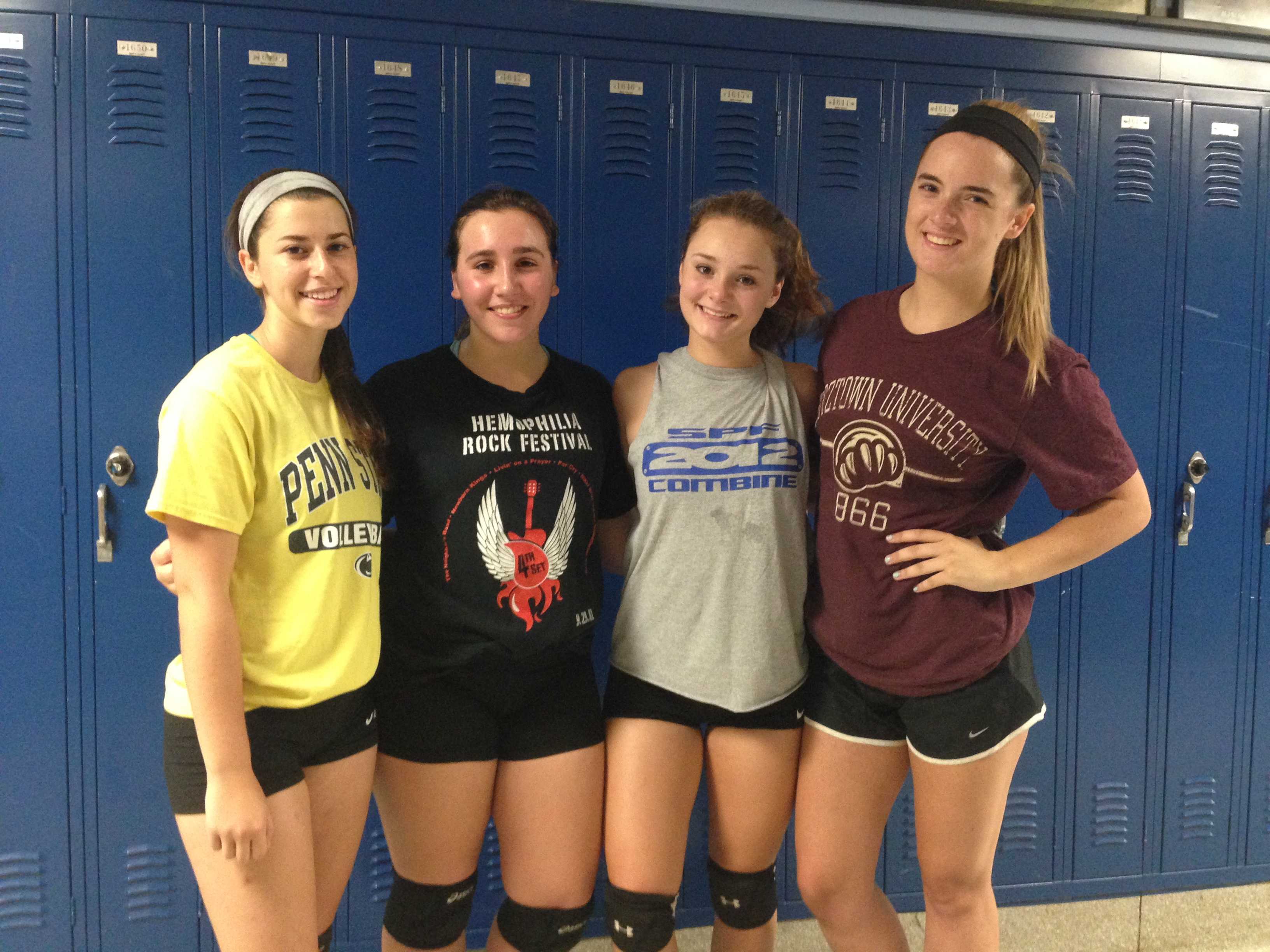 What are your goals for this season?
Stack: My goal for this season is to build a sense of unity. Because I have such a varying age level, it's important that everyone feels that they are playing as one and not as six individuals in a court. What I have them do is set individual goals and then team goals as a group. Making sure that we are achieving at least more than half of those throughout the season is important to me.
Yessman: We would like to do better than we did last year, and have a winning record.

Ponterio: I would like to make it to finals.
 
How was the team prepared for the upcoming season?
Stack: We have been practicing together since June. We played in a summer league two nights a week for six weeks. We are a young team, but I think already after having a scrimmage, their work ethic looks promising.

Goldberg: We have a lot of returning varsity players, and we're helping out the underclassmen.

Yessman: We have a lot of team bonding, so we can form a good team on the court.
 
What are you most excited for this year?
Stack: We are still in the toughest conference bracket so we are playing all the high caliber teams which I think is important; it sets the bar very high for them and I feel like players play their best when they "play up" to a team. It's going to be a good season.
Ponterio: I'm excited to build up the program and play with new players, and ultimately have a good time with the new team.

Goldberg: Last year was more of a building season. We can rise from the ashes of last season.
 
Are there any specific games that you are looking forward to?
Stack: We are playing in the "pink out" in Westfield which is going to be a regular season match, but also a charity tournament. This is that first time we have been able to play in that, due to my schedule. The game will be on the October 2nd.  These kids love to say that Westfield is a big rival, but really any team is a reliable rival so we should always play hard. We also have a Raider tournament on September 12th at home; that's a Saturday.

Koederitz: Westfield. Raider Nation better be there.

What is the team dynamic like?
Goldberg: I think the underclassmen are really stepping it up this year. They're listening to us and doing what we're saying, because we've been on varsity longer and we know what Coach Stack wants.

Ponterio: I think we all view each other as equals. We're very close with each other and we all respect each other; whether you're an upperclassman or an underclassman doesn't matter. We just come together as a great team.