Can't hide that Raider pride: SPF athletes are having a year to remember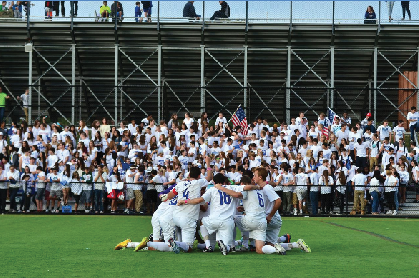 If there is one thing that SPF students are especially proud of, it is the school's superior athletics.
   In the past 12 months, numerous sports teams have achieved very impressive feats, whether it was beating Westfield or breaking a long-time school record.
   Westfield commonly proclaims that they beat SPF at every sport. The past 12 months, however, were a different story for SPF. Boys soccer, girls soccer, spring track, girls tennis, girls swimming, wrestling, hockey, and golf all defeated Westfield at least once over the course of their respective seasons. Hockey defeated Westfield for the second time in program history, and girls tennis beat Westfield for the first time ever in September– and then beat them again in October.
   Girls swimming defeated Westfield for the first time in 46 years. "The feeling after beating Westfield was indescribable. There was such a rush of emotions after the last event; all the girls were screaming and cheering," said junior swimmer Kate Musso. "I think that more than anything we were all proud to finally beat a team that was always assumed to be so much better than us."
   Girls swimming carried their   strong performance through the rest of the season and won their first outright county championship ever (they tied for first in 2005). As of Feb. 5, they are still undefeated. "Our team has depth, which is something that not many teams have. If you look at other top Union County teams, they have one or two standout swimmers while SPF has at least ten incredibly strong swimmers," said Musso.
   In addition to those impressive victories, many school records were broken in the past 12 months. Individually, varsity basketball player Leo Ramos broke the school record for points in a single game by dropping a smooth 57 points against Roselle on Jan. 8. "I'm just glad that it all worked out the way it did and we were able to win the game," said Ramos. "I'm thankful for my team and am honored to be able to hold the record at Scotch Plains where there have been a lot of great players." His performance as an individual will be remembered for a long time.
   This past spring, the lacrosse team became Kimber Conference Champions for the first time in program history. This came only a year after they won their first state game ever. As the team matures, they can only become more successful.
   As usual, both soccer teams were dominant and were both ranked in the state for a majority of the season. Girls soccer set the program record for wins in a season with 21–an incredible feat considering that the SPF girls soccer has had a storied history. On top of it all, they won the sectional title for the first time since 2008, along with their fifth straight county championship. "The feeling after winning sectionals was awesome– I don't really think there any other words to put it," said sophomore goalkeeper Andrea Leitner. "It felt really good because we weren't favored to win, but we went out there and proved that the reporters aren't always right." Boys soccer traveled along a similar road, winning their fourth straight county final and advancing to the state championship for the first time since 2004.
   All of these records and victories are only a few of a long list of accomplishments for the teams this year. A lot of the credit of these seasons is due to both superb upperclassmen leadership, and strong players coming off the bench. This balance that many SPF teams contain is one of the large reasons of the success thus far. Senior soccer captain Zach Lipshitz believed that without this combination, the boys soccer team would not have been nearly as successful as they were.
   "Everyone had a part in this season. It wasn't just the seniors, wasn't just the juniors, and wasn't just the sophomores," said Lipshitz. "The non-seniors were always pushing us to our limits and without their hard work and effort the team as a whole wouldn't have been as strong as we were."
   Whether it has been winning games, beating Westfield, or shattering records, the past 12 months have been nothing short of a great year for athletics at SPFHS.