Humans of SPF: junior Maya Jegede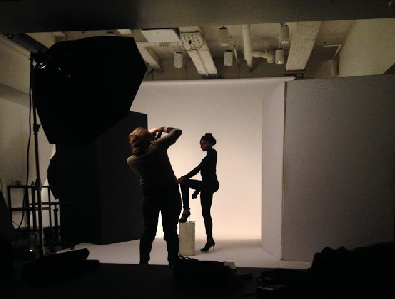 The students at Scotch Plains Fanwood High School lead interesting lives inside and outside the walls of the high school. Humans of SPF enables these students to share their stories. One student was asked questions about her life, and how her interests have exposed her to different experiences.
What modeling agency are you signed to?
   Next Model Management.
Does Next Model Management have any famous models signed with them?
   Two models from my agency walked in the Victoria Secret fashion show, Daniela Braga and Blanca Padilla. Next also has a musician division, so they represent people like Lana Del Rey, Rita Ora, Taylor Momsen and Ellie Goulding. Also Karlie Kloss and Miranda Kerr used to be signed with my agency; I'm obsessed with both of them so it's cool to know I'm signed with the same agency that they were once signed to.
How did you get discovered?
   The agency holds open calls on Wednesdays so I decided to go and see what would happen, and the scout picked me.
   What was the conversation like between you and the scout?
   New faces are a major part of the modeling industry, so model scouts get really excited when they discover a new girl. Agencies are really competitive and want to have the new "it" girl. When I was talking to the scout he was so enthusiastic and thrilled that he had found me. His name is Jason and I love him so much.
What was your initial reaction when they asked you to model?
   Initially I didn't have a reaction; at the time I couldn't walk in heels so my only concern was not falling on my butt.  But once I left the agency my mom and I freaked out on the side walk.
Have you modeled for any brand/company yet?
   I'm in development right now so my agency sends me out on test shoots for practice and to develop my portfolio but I should start going out on real jobs in about a month.
Did you have to go through any training?
   I guess you could consider the test shoots training; other than that I have a lot of meetings with agents. The industry is a lot to handle especially for someone my age so they want to make sure I'm not putting too much pressure on myself and that I'm mentally prepared for all of it.
What are the test shoots like?
   Test shoots are so much fun! Sometimes they are outdoors and sometimes they are indoors inside a studio. The indoor shoots are harder because the lights are really bright so it gives me a headache. Depending on how many looks they're shooting,  I have to stand for five or more hours posing and taking photos. Test shoots can get really tiring but I  love modeling more than anything.
Will you make a career out of modeling?
   I hope I become a very successful model but modeling doesn't last forever so I plan to take full advantage of the industry I'm in and do other things as well.
Are there any other habits that you have to stick to for modeling?
   Being a model you interact with a lot of people and you are always being watched. There is no room for being shy or awkward or subconscious. Sometimes I get nervous when I'm talking to new people so I've had to become more carefree and confident.