New Lammily doll accessories create unhealthy route to self-confidence for young girls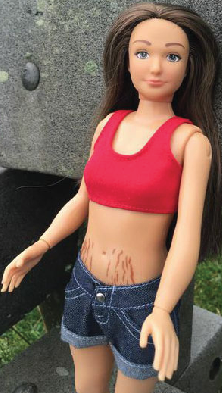 Since Barbie's debut in 1959, the doll has been criticized for creating an unrealistic idea of body image. Nickolay Lamm is one such critic who tried to eliminate the discordance between dolls and the average woman with his new Lammily doll, which was released in November 2014.
   Lamm's message is well-intended and true: "reality is cool and although it's not perfect, it's beautiful," he said (businessinsider.com). One of the main differences between the Lammily doll and Barbie is that the former's body has the proportions of an average nineteen-year-old American woman. If scaled to human size, Barbie would have a bust much larger and a waist much smaller than those of the average woman (cbsnews.com). Regardless of whether Barbie's proportions should be changed, there is no problem with having a different, more accurately shaped doll on the market. It is what is coming up for the Lammily doll that is concerning.
   Soon to be released are "Lammily Marks," which are vinyl stickers that can be placed on the doll. Included in the line are acne, cellulite, stretch marks, mosquito bites, blushing and scars stickers. This is taking the idea of reality in dolls too far. A post about the stickers on the Lammily website discusses how scars from injuries and surgeries can be a source of discomfort and self-consciousness, and embracing such imperfections is crucial. These issues undoubtedly exist and need to be handled, but Lammily does not do so in a helpful, productive way. Another part of the same post reads, "Now, children have an empathetic companion alongside of them." Dolls cannot be empathetic. Children should not rely on dolls customized with stickers to replicate their blemishes as a source of empathy.
   Above the blushing sticker on the Lammily Marks sheet reads, "Embarrassed, shy, or anxious? Don't worry, no need to hide how you feel!" Is placing a sticker on a doll really the right way to deal with shyness? If the whole idea is that reality is beautiful, children should turn to other members of such reality when dealing with self-confidence issues, not inanimate objects. By offering stickers of things as specific and detailed as cellulite, the Lammily company implies that dolls need to be realistic. A doll can replicate the appearance of blemishes, imperfections and flaws, but it cannot replicate the feelings of discomfort and self-consciousness that Lammily acknowledges as results of such physical traits. If kids are truly feeling self-conscious, they should not turn to dolls for confidence. The Lammily site features a video of Lamm asking for money for the Lammily doll project "so that our girls can grow up to become…truly confident and proud in their own bodies." Using Lammily Marks is simply not a healthy route to self-confidence.
   Although the creators have good intentions for the mental and physical health of young girls as the execution is poor and will ultimately not help girls. Acceptance of all body types is important—and is gaining more and more attention, with songs about body confidence like "All About That Bass" by Meghan Trainor and "Try" by Colbie Caillat—but its enforcement must be carefully conducted.