Humans of SPF: junior Haley Monahan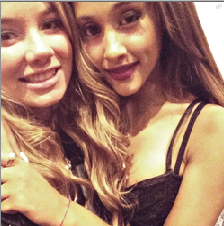 By Ally Flynn
How did you get the chance to attend the EMAs (European Music Awards)?
   HM: My uncle works for MTV Europe as an American film producer and president of talent for MTV Europe. He basically works with all the talent, and produces the European Music Awards every year.
   Have you gone before? What countries have they been in?
   Yes, I have gone to one other European Music Awards in Belfast, [Northern] Ireland in 2011. Every year they take place in a different European country.
   Who was your favorite celebrity to meet this past trip?
   Ariana Grande because she was so different than I expected. She was really tiny in person, but soft spoken, and by far one of the nicest celebrities I have met.
   What other celebrity did you meet on this trip?
   I sat backstage with Ed Sheeran and ate dinner with him and his producers. We didn't talk much and I really don't remember what I said, but it was still really cool to just sit across from him because I am such a huge fan.
   What was the highlight of your trip to Scotland?
   The highlight was definitely going to the show's rehearsals the night before the awards because I got to see the musical performances. My family and I were also the only ones in the arena aside from security and music executives. It was unreal to be alone in such a huge area and get what seemed like a personal concert from Ariana Grande. Being backstage and watching celebrities walk in and
out of their dressing rooms getting ready to go on stage was
also really cool, as it was to see all the work that goes into an awards show behind the scenes.
   What is it like to walk the red carpet?
    I can really only describe it as thrilling. All the paparazzi screaming at you while you walk down the carpet, is truly a once in a lifetime opportunity.
   What celebrity was most different in person from your expectations?
    Lady Gaga because of how eccentric she actually looked in person while still being really nice. Her appearance does not match her personality.
   Did you have any negative experiences while you were at the EMAs?
   Actually, at the dress rehearsal it was just my family, the producers of the show, security, and all the talent. Ariana Grande was performing her number and it was just my cousin and me sitting on the floor in front of the stage. I lifted up my phone to take a picture of her and security started freaking out. They pulled me aside and started screaming at me how I should have known this was a no photography zone. It lasted a good couple of minutes. I was so scared of the security that I just deleted the picture, which hadn't turned out well anyway. Ariana was actually so embarrassed her security had screamed at me like that that her people had to apologize to my uncle. It was such chaos over a small misunderstanding.  Even though getting yelled at by security wasn't ideal, I think that because of the way Ariana talked to my uncle I saw that she was in fact an understanding and kind person.