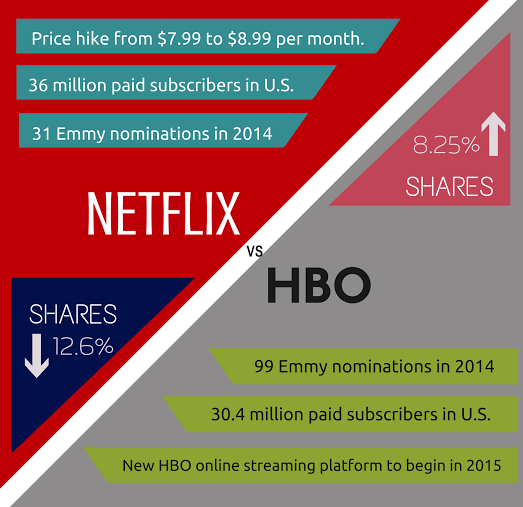 by Josh Goldberg
   Richard Plepler, CEO of HBO, recently announced plans to offer HBO-exclusive content over the internet without cable subscriptions, placing the cable channel in direct competition with streaming-giant Netflix.
   Netflix is a leader in the video streaming game for many reasons. After introducing video streaming to subscribers in 2007, the company managed to edge out the competition over the years by correcting the pitfalls of competing services. Services such as Hulu and Amazon Prime have high price points for access to their libraries, and ads air before, during, and after a program even if a subscription is purchased. Netflix possesses a cheap subscription plan and ad-less videos while offering unique original content and playback of movies without digital rights management software (software that restricts how a movie can be viewed) as added incentives for consumers.   
   "The main reason I stay with Netflix is their range of content,"said librarian Robin Stayvas. "Netflix has everything; I mostly watch Netflix for the documentaries, but great shows such as "The Office," "The "Killing" and "Jericho'" keep me hooked on the service."
   The extra incentives of Netflix come with their own pitfalls: licensing issues. Netflix offers third-party hit shows, such as "The Walking Dead" and "Arrow," but is only able to screen earlier seasons of these series. Netflix only licenses new seasons of a show months after the season aired.
   HBO aims to dethrone Netflix by fixing these problems. HBO GO, a streaming service by the channel provider only available to TV subscribers, allows subscribers to watch all HBO content, including current seasons of shows, over the internet. Reports by CNET suggest that HBO's streaming service will be a stand-alone version of HBO GO, allowing future internet subscribers to watch content on the existing app.
   HBO is not the only provider planning to offer online access to its content. CBS launched a streaming service, cheaper than Netflix, offering unlimited access to its content with a subscription. Verizon also offers a cheaper streaming service through RedBox instant.
   In the coming years, the idea of watching TV will change. Television content providers will offer more content online, following in the footsteps of HBO. HBO owns the rights to groundbreaking series and could be the cable provider to bring in this change.