Derek Jeter retires, leaves voids in Yankees lineup and hearts of fans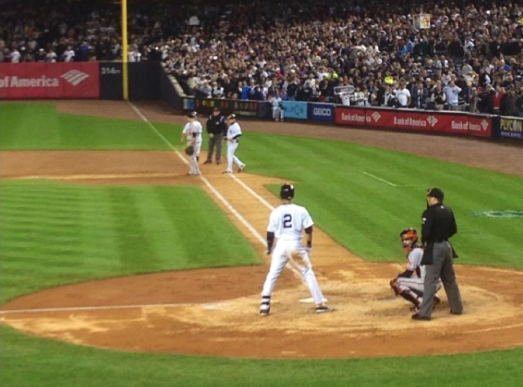 by Tyler Dencker and
Ryan Romaine
In May 1995, a 21-year-old rookie by the name of Derek Jeter took the field as a New York Yankee for the first time. 2,747 games and 3,465 hits later, Jeter has solidified himself not only as one of the greatest Yankees of all time, but as one of the most respected ballplayers in the history of the game.  Unfortunately for baseball fans across the nation, Jeter has retired after completing his 20th season in Major League Baseball, officially marking the end of an era.
    Jeter was the face of Major League Baseball throughout the lives of most high school students, making his retirement one of the most difficult to deal with in recent history. In his career, the captain won five World Series championships, five Gold Glove Awards, and two Hank Aaron Awards, an award given to the top hitter from each league. Equally as impressive, Jeter managed to stay out of trouble. During an era in which athletes are constantly in the headlines for issues ranging from steroid use to domestic violence, Jeter's flawless reputation remained intact. "Jeter was a great role model because he was never involved in a scandal," said junior Emma Duggan, a Mets fan. "He's a true example of an amazing athlete."        
    Aside from his impressive   character, Jeter had an incredible career statistically as well. Playing on a team with 27 World Series Championships and a prestigious history can make it difficult to stand out, but Jeter did just that. He finished his career as the Yankees all-time leader in games played (2,747), stolen bases (358), singles (2,595), and doubles (544). But above all, winning mattered more to Jeter than individual accomplishments. He was a part of more New York Yankees wins than any other player. The statistics were truly the capstone of an incredible career with the Yankees.
    While the impact that Jeter's retirement has on the Yankees is obvious, equally as noteworthy is its effect on the game of baseball as a whole. Who will replace Jeter as the face of baseball? Mike Trout? Bryce Harper? These young superstars have the talent to be the best players in the game, but their ability to keep an unscathed public image, just as Jeter had done from his first game to his last, remains to be seen. Either way,  the MLB must find the next Derek Jeter: someone known equally for his ability to succeed under pressure on the field and stay out of trouble off the field. "As a Red Sox fan it's easy to get caught up in the rivalry with the Yankees, but I always had the utmost respect for Derek Jeter," said senior Garrett Szeto. "Along with being a role model for millions of fans, he showed young athletes how to act in a mature fashion in a sports world where many players get themselves into trouble."
    As Jeter's final season dwindled to a close, teams and fans began to pay their respects. A series of standing ovations, donations to his charity, commercials, and gifts displayed the reverence that the general population had for Jeter. This depicted the undeniable fact that the Yankees, the MLB, and baseball fans will be looking for a way to fill the void left by the inevitable Hall of Fame shortstop. "The stadium was louder than I had ever heard during a playoff game," said senior Matt Marino, who attended Jeter's final home game. "Jeter was such a significant part of my childhood and of my life, and his send off left tears in my eyes."
    Jeter played far beyond anyone's initial expectations, and will go down as one of the greatest Yankees to ever play. His number, 2, will one day be retired by the Yankees; the last single-digit number in Yankee history to be retired. This would put him on a list along with Yankee-greats such as Babe Ruth, Lou Gehrig, Joe Dimaggio, and Mickey Mantle, which speaks volumes about Jeter's ability. Though everyone has already paid their farewell to the captain, his legacy will undoubtedly last forever.