On the Record with Aaron and Rich McGriff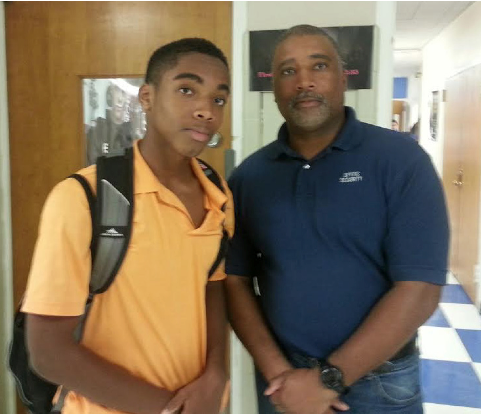 By Gabriela MacPherson
To an outsider observing track practice, Aaron McGriff seems like any other member of the track team. He isn't treated any differently; he works hard and succeeds in his events (hurdling and jumping). He laughs with his friends on the team, and he is just as involved in the the "track family" as any other member. Then the observer sees track and football coach Richard McGriff and, after a brief double-take, realizes that he and Aaron must be related.
It also probably helps that Aaron calls him "Dad".
"Aaron is definitely a mini-Rich," said junior Summer Robinson, also a member of the track team. "They're so alike it's scary!" After seeing them together in either track or football, it is easy to see how similar Aaron and Coach McGriff are– but Aaron is definitely leaving his own mark on SPF athletics.
Coach McGriff and Aaron shared their experiences balancing their father-son and coach-student relationships.
A lot of people on the team joke that you are 'the same person.' What do you say to that? How are you two similar? Do you enjoy the comparison? Why or why not?
Aaron: I am obviously very much like him, which I am okay with because I idolize my dad, but I don't want to be the same person.
Rich: Well, I don't mind that at all because you try to be a good example for your child, so if they act similarly to you and you are behaving in an appropriate manner, it's a good thing. I always tell people that one of the greatest compliments I got in my life was my son was seven years old and he was arguing with my girlfriend at the time and she said, 'you're just like your father.' His response was 'thank you!'
Rich, when Aaron was little, did you always want him to be on the track and football teams?
Rich: I wanted him to play sports, but I didn't know what they would be, and I never pushed him to play any [specific] sport. He wound up doing track as a freshman, and he did that on his own. That was the first time he showed any desire to do it and then I think that participating in track, enjoying sports, being in shape, and being on a team is the reason he started football.
Aaron-anytimes  that  you  felt were   probably   difficult   for   your   dad?
   Aaron: Well on my first day of football, we had a drill where there are ten different passes and if you drop the ball, you do ten pushups. The maximum number of pushups you can do is 100 pushups, and I did 90. My Dad had to watch me do 90 push ups. I caught the ball once out of ten times.
What is your favorite part of being both father and son, and coach and student? And your least favorite?
Aaron: My favorite part of being coached by him is that it is much easier to learn from him. I know what he means when he tells me something and I can get one-on-one feedback at home. I also enjoy just getting extra time with my dad. The only thing I dislike is that as coach's son, some people either have higher expectations for me, or attribute any successes I have to being his son.
Rich:  My favorite part is the same as for everyone I coach- seeing him succeed and get better and more confident. My least favorite part is having to watch him struggle, fail or be disappointed.