Humans of SPFHS spotlights students' interests, futures and goals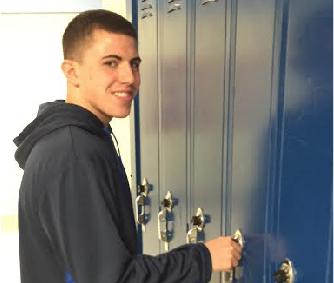 [Best_Wordpress_Gallery id="4″ gal_title="Humans of SPFHS spotlights students' interests, futures and goals"]
by Alyssa Cordero and Derek Offitzer
   The students at Scotch Plains-Fanwood High School lead interesting lives, evident from the various sports they play, to the classes they take. Each student has his or her own story and experiences to share. Humans of SPF enables students to let their voices be heard.
Students are asked questions relating to similar topics, and that's where the similarities end. Three students were asked questions about their lives, their current high school experience and what they desire for the future.
Now that you're in your senior year of high school, what are your plans after graduation? 
   After high school I am considering going to school for business management, or straight to my father's air conditioning business. If I do go to college, I still plan to work for my father's business unless I find something else I really enjoy. I would like to find a job involving sports because my life revolves around sports and I think it would be perfect for me.
How have you evolved as a person since starting here at the high school?
    In general, I have grown up and matured a lot since coming here. This school has changed me as a person and made me a harder worker and more committed to things.
Who has been the biggest inspiration in your life?
    My dad because he's a hard worker and always gives whatever he's doing 100% effort. He really shaped me into the person I am today. Since he runs his own business, I've seen him do his thing every single day for as long as I can remember. Through his commitment to both his work and to our relationship, many of his qualities have rubbed off on me as well.
What do you feel you would have to do get into a top college? What obstacles would you have to accomplish in order to do so?
   College mania is crazy already–everyone has an opinion on what's going to get you in. I say just do your thing and don't care if they like it. Cultivate one hobby if that's what you want to do. Do everything if that's what you like doing. You'll be more authentic that way.
How do you deal with the pressure on you from your family and teachers to do well in school while still being involved in extracurriculars?
In a most quintessentially Indian daughter move, I bend to it. I do what the pressure wants me to do.
What is your strategy keeping up with your clubs, sports, and high-level classes for college?
To kind of quote Yoda, there is no strategy. There is only do. Take it one quiz, test, meet, or conference at a time. Write it all down, and take care of it.
Besides college, what is your ultimate goal?
I think right now my goal is to find out what my ultimate goal is. It's a process.
If you were granted one wish, what would it be?
I would like to live forever. I would get to experience different things in occupations in different lifetimes. Travel the world. See different sites.
So it seems that you are into adventure?
Yeah. If I could go anywhere I might go to Africa and see some safaris.
What was your first adventure?
When I was three years old I moved to London. I saw how European culture differed from American culture.
What has been your greatest adventure?
Going to Switzerland and hiking around was pretty fun.
What have you learned from your travels?
I learned the unique traits of different cultures throughout the world.
What is the most important fact or lesson you discovered or have learned in your travels?
Seeing different cultures makes you look at life from a different perspective. You can see how different people connect, and interact.
Is there anywhere in the world that you haven't been to and would love to see or visit?
I would like to visit China and see the Great Wall.