Newsweek ranks Scotch Plains- Fanwood among top high schools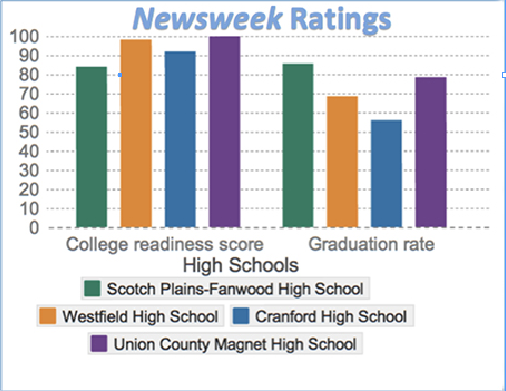 by Sara Sikora
A recent Newsweek ranking of high schools across the country listed Scotch Plains-Fanwood High School as 245 out of the top 500 of the high schools in the U.S. The cluster of vocational-technical schools in Scotch Plains, including the Union County Magnet High School and the Academy for Allied Health Science, topped the national list, ranking second and 21st, respectively. Other local schools ranked higher on the list than SPFHS, including Westfield High School, ranked 29th and Cranford High School, ranked 123rd.
The rankings were compiled to highlight the achievements of public high schools across the country that do an excellent job of preparing students for higher education while dealing with obstacles such as socioeconomic inequality. These determinations were based on categories including enrollment rate, graduation rate, AP/IB and SAT/ACT standardized test scores, holding power (change in enrollment between ninth and 12th grades) and counselor to student ratio. While the leading high schools showed a clear advantage in certain categories compared to Scotch Plains-Fanwood High School, in others there were minimal disparities. For example, number two-ranked Union County Magnet High School had a much higher college enrollment percentage and SAT/ACT scores than the Scotch Plains-Fanwood high school, but other factors, such as rate of graduation, were exactly the same when compared to SPFHS.
"To me, it's very interesting to see how SPFHS ranks in comparison to other local schools," said senior Natalie Daniele. "I also think it is interesting that local schools are so similar in many of the areas that were evaluated.
The high school is clearly not far behind in many areas, so it is surprising that we are not ranked closer to the top."
While SPFHS is ranked below other comparable, nearby schools, students still feel pride at seeing their school on the list. "It's amazing that out of the thousands of high schools in the country, our school is ranked fairly high on the list," said senior Taylor Brown. "It reminds me that we are in a great school district that gives us many opportunities to succeed."
Schools featured in the 2014 edition were examined with more scrutiny than in past years. According to Newsweek, "This year, our methodology is more stringent than ever with new measures of quality and a higher standard for data."
Despite its comparatively low ranking among local schools, SPFHS has dramatically improved. In a similar compilation created by Newsweek in 2013, SPFHS was not even included.