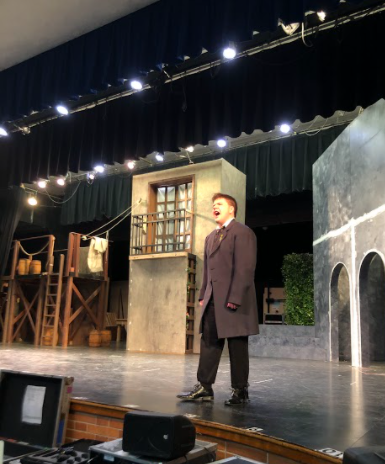 Senior Tucker Rose started his music career playing Jesus Christ's father in a Christmas Pageant at age four.
Since then, Rose has been involved in everything from classes to choirs to shows. Currently, he has the lead role of Jean Valjean in Scotch Plains-Fanwood High School Repertory Theater's production of Les Miserables. Previously he has been in "A Christmas Carol" as The Ghost of Christmas yet to come this past winter. Over the years at SPFHS he has been in Mama Mia, A Midsummer Night's Dream, Chicago and Spongebob.
"I love it so much. It brings a whole new level of professionality and community to an already loved institution of mine." Rose said.
Rose has even mentioned that Jean Valjean is his favorite role he has played in all of his years of musicals. 
However, his music department involvement doesn't just stop at the theater department. Rose is a part of Concert Choir, Men's choir and Select choir. In addition, he is also part of the high school band.
Rose believes that the music department is a great thing to be involved in during any high schooler's career.
"If you have ever felt like you don't belong to a certain group; this is the most welcoming group I have ever been a part of," Rose said. "All different types of people from all around come together to make something beautiful."
Rose suggests that everyone should come to see Repertory Theater's production of Les Miserables at Scotch Plains Fanwood High School.
"It's one of the classics. It's an amazing show," Rose said. "It is a very unique and original story and I feel like everyone should see the trials and tribulations that these people had to go through. It's just cool to see it on stage."
You can see Tucker and the rest of the cast of Les Miserables on March 31, April 1, 2 and 3 at SPFHS. Tickets can be bought at spfrep.com.