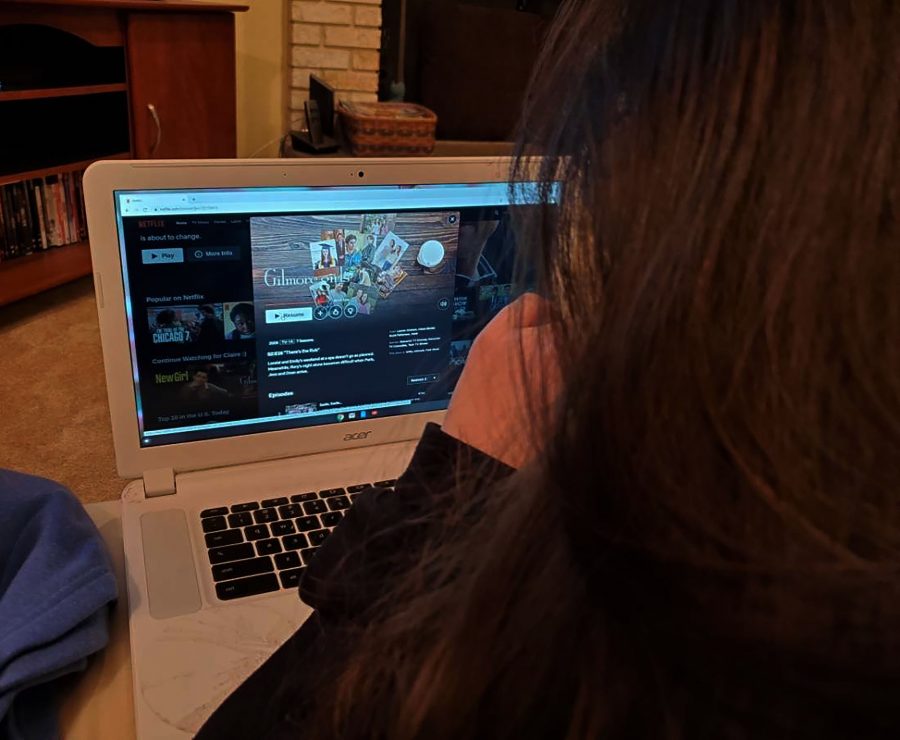 Since schools closed and switched to online learning on Mar. 13 2020, many students have found themselves with more free time than usual. Not having to wake up early and going to school at a certain time meant that more time could be spent doing other things. Many students chose to spend some of their extra free time reading and watching movies and television shows.
"I definitely had more time during the quarantine because my family was really serious about staying safe," senior Claire Fisher said.
In addition to spending time with her family, Fisher passed the time by watching some of her favorite movies and shows such as "La La Land" and "Gilmore Girls." Watching them provided her with much-needed entertainment, as well as comfort during these unprecedented times.
"["Gilmore Girls"] is a favorite of mine because of the likeable characters and relatable plots," Fisher said. "It's so comforting to watch but also keeps you wanting more."
According to a recent Neilson study, over half of consumers seek comfort in television shows that they are familiar with. Watching or reading media that is relaxing and familiar is a practice that is only increasing during the Covid-19 pandemic.
Despite keeping herself busy with work, helping out around the house and working on college applications, senior Taylor Hopkins found that she also had more free time. She spent some of this time reading books such as "The Goldfinch" and watching shows like "Criminal Minds."
Similar to Fisher, Hopkins often opted to watch movies that she had watched before during quarantine. These included Marvel movies, "Star Wars" and "Pirates of the Caribbean."
"I watched things that I've seen before mostly, as it was nice since I already knew how they ended and I knew that I enjoyed watching them," Hopkins said.
The past several months have proven to be stressful. Luckily, finding comfort in enjoyable and familiar forms of entertainment can help relieve some of that stress and make this difficult time a bit more relaxing.
So, the next time you're feeling stressed out about the pandemic, school or anything else, consider taking a break and turning to some familiar forms of media. A favorite familiar book, show or movie might help you unwind and relax.